It is good to see the sun shining today after some dreary weather.
Next week Joseph, Lovina, and Kevin will be home for spring break from school. Saturday is already the first day of April. I am hoping for a warmer week while the children are home. We want to get the yard cleaned up and ready for mowing when the grass starts growing.
Daughters Verena, 19, and Lovina, 12, will stay at a friend's house from Friday night until late Saturday night with the friend's one-year-old son. They babysit for him a lot so he is used to having them around. His parents are leaving town and asked the girls if they would stay with him.
Then Sunday morning early, Verena will leave for eight days with the lady she works with at a local daycare center. There will be others going with them as well and they will be travel to various states as far as Rhode Island. I will have more details when she is back. I hope they have safe travels. We will miss Verena while she is gone, but I am glad she gets to go. Most of her expenses will be paid. It will be a nice break for her to get away from everything. I was teasing her that she's going farther east than I've ever gone. Ohio is the farthest east I have been.
She works three days a week at the daycare and helps with the little children age five and younger. She loves being around them and is already very attached. Her love for children makes her job fun but demanding. Needless to say, she changes a lot of diapers in a day's time. Also with quite a few needing to be potty-trained, there isn't much free time for her.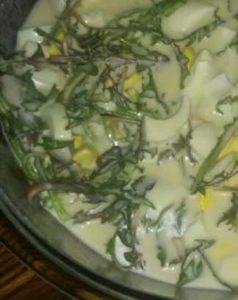 We are having dandelion greens salad a lot this week. We like this with cooked or steamed potatoes. This year three more of our children started eating the dandelion salad.
I want to correct something that somehow was incorrect in a recent column. Pon hoss is sliced and fried, but flour is not added to fry it. This must have been a misprint somewhere. That is one of the things a writer must endure. We write it one way and just a few words added or reworded can make a big difference and another meaning.
We have three wedding invitations on our refrigerator at this time. Niece Emma and Johnny chose April 14 for their wedding day. Our neighbor girl Regina and Wayne have set May 12 for their special day. And on May 5, Dustin's brother Jake and Lisa will exchange vows. I was asked to be a cook at all three of these weddings. The girls also have part in two of the weddings, so much sewing needs to be done. We went after the material and now it's waiting to be cut out and sewn.
Due to still getting lots of letters from readers asking about details about the cookbook, The Essential Amish Cookbook: Everyday Recipes from Farm and Pantry, I'll put in that information again. You can call 800-245-7894 to preorder from the publisher or go online and order from Amazon or other stores online. It will be released April 17. It's exciting for all of us.
God's blessings to all!
Garden Vegetable Spread
8 ounces cream cheese, softened
1/2 cup cucumber, diced
1 carrot, shredded
1 green onion, chopped
1 teaspoon lemon juice
1/4 teaspoon dill weed
dash of salt
dash of pepper
Combine all the ingredients. Chill. Serve with crackers or cut-up vegetables. This is also very good on a bagel or a tortilla with a little meat, cheese, lettuce and tomatoes.
Lovina Eicher is an Old Order Amish writer, cook, wife and mother of eight. She is the co-author of three cookbooks; her new cookbook, The Essential Amish Kitchen, will be published in 2017, available from 800-245-7894. Readers can write to Eicher at PO Box 1689, South Holland, IL 60473 (please include a self-addressed stamped envelope for a reply) or at LovinasAmishKitchen@MennoMedia.org.