Lovina's brother "didn't know a stranger"
So much sadness has been brought to our family since I last penned this column. God has once again reminded us that one does not have to be old to die.
A week ago, January 31, my sister-in-law, Nancy tried to wake up my oldest brother Amos. Life had fled—Amos was only 56 years old.
He left behind 10 children and 15 grandchildren and his wife of 34 years. Here are the details: Susan is married to Joe and they have seven children: Nancy, Susan, Joe, Steven, Amos, Lyle and Barbara Ann. Elizabeth and Paul have three children: Lisa, Amanda and Amos. Mary Jane and Amos have three children: Amos, Marvin and Mary Jane. Ben and Lovina have a daughter Leanna. Arlene is married to Robert. Marlene is married to Chris (Arlene and Marlene are twins). Lovina and Benjamin have a daughter Kristine. Lisa is married to Matthew. Laura, age 16, has a special friend, Enos. Samuel is 14 and in eighth grade.
Amos was a great brother to me. He had many friends. Amos never met a stranger. Five years ago in January, Amos was in an accident on his way to work not very far from our house. Two of my cousins were killed in this accident and Amos's life was spared. The driver taking them to work hit a patch of black ice and rolled the van numerous times. Amos was treated and released at our local hospital.
My sisters Verena, Susan, Emma, and brother Albert and wife Sarah Irene, all gathered at the hospital to be with Amos since his family was so far away yet. We brought Amos to my house and visited together until Amos's wife Nancy and their children came to pick him up. We felt so fortunate to still have our brother. Every January since, I think back to the widows my two cousins left behind and their families. Last Wednesday morning right after my husband Joe left for work, we received the shocking news that brother Amos wouldn't wake up.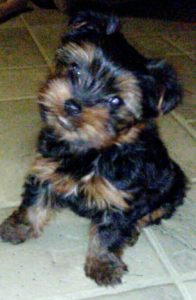 Amos had let our daughter Verena pick out a Yorkie puppy and he wanted to just give it to her since she has no income. Verena talked with Amos a few weeks before his death and he wanted her to wait until January 31 to pick up the puppy. Little did we realize that he would be gone that day. That day Verena came in and told me that Amos is on the phone (our phone is in an out building) and had asked if he could talk to me. Amos would use the driver's phone to call while he was on their way home from work. Amos and I talked for a long time. (He had a few hours drive to and from work.) That time I didn't think I had to talk with him, is so precious to me now. Those were the last words I talked with Amos. I will forever treasure that phone call.
Viewing visitation was Thursday, February 1 1:00 p.m. to 8:00 p.m. and Friday 9:00 a.m. to 8:00 p.m. We traveled the two hours back and forth every day. On Saturday the funeral services were at 9:00 a.m. It was a cold day for a funeral. The first evening more than one thousand friends and family walked through. Such support is a blessing to the family. The community outdid themselves with bringing food for the meals. So many lent a hand to help.
This past Tuesday, Joe and I and daughter Verena, Mose, Susan and Baby Jennifer traveled to Berne (Ind.) and visited with Nancy and the children. Her son Ben, daughter Mary Jane and three children, daughter Lisa and Laura and Sam were also there. Sam made sure Verena could take her puppy (who she named Ruby) home after the funeral. Verena will have a very nice memory of her Uncle Amos and always remember his kindness in giving her the puppy.
Brother Amos also trained our horse, Mighty, and he is a good safe horse. I am glad we have a horse Amos trained to remember him by also. Mighty is our "Old Faithful." I like taking him to town as I trust him around the traffic.
Quite a few from our community traveled the over 100 miles to the visitation of Amos. We appreciate all the family and friends that took time to come and show their support. May God reward them for their kindness. Rest in peace, brother Amos. You will forever be missed.
Now tomorrow, on a happier note, I look forward to meet and have a visit to our house from one of my editors from MennoMedia. Safe travels, Amy Gingerich!
Butterscotch Pie
1/2 cup brown sugar
3 tablespoons boiling water
1 tablespoon butter
1/2 teaspoon salt
1/2 teaspoon vanilla
1/8 teaspoon soda
Combine brown sugar, boiling water, butter, salt and vanilla. When mixture begins to boil, add soda. Boil until syrup forms a hard ball in cold water.
1 egg yolk
1/2 cup flour
1/2 cup sugar
1 1/2 cup boiling water
1 baked pie shell
Whipped cream
Combine egg yolk, flour and sugar; slowly add boiling water. Add to syrup mixture and bring to a boil. When filling is cooled, beat with spoon until fluffy. Pour into baked pie shell. Top with whipped cream.
Lovina's Amish Kitchen is written by Lovina Eicher, Old Order Amish writer, cook, wife and mother of eight. She is the co-author of three cookbooks; her newest cookbook, The Essential Amish Cookbook, is available from 800-245-7894. Readers can write to Eicher at PO Box 1689, South Holland, IL 60473 (please include a self-addressed stamped envelope for a reply) or at LovinasAmishKitchen@MennoMedia.org.