We're having another warm day with the temperature in the mid sixties. Yesterday was even warmer plus it was also sunny. We did laundry and hung it all outside on the lines. By the afternoon hours everything was dry. It sure gives a person spring fever. It was so good to be able to wash, dry, and fold clothes in one day and have it all put away. We had an extra huge laundry as we washed some bedding, coats, etc.
Today it is cloudy and no sun but it is still nice to be able to have a few windows open. So nice to smell the fresh air blowing in.
Susan's friend Mose came last night to cook down some more sap into maple syrup. Since it has warmed up again, the sap is really running from the maple trees.
Son Joseph, 13, is now getting around without crutches. He still favors the leg and it still gets painful if he overdoes it. He walks with a limp but is back to milking our cow Bessie every morning and evening.
Son-in-law Timothy is still not allowed to put weight on his foot. It is improving more every day, but he is so ready to walk without the aid of crutches. Daughter Elizabeth had plans to come spend the day here but Timothy ended up being sick this morning so she stayed home with him. She plans to come tomorrow, which I always look forward to. I didn't see her since last Friday so we have lots of visiting to catch up on. Daughter Lovina, 11, spent the weekend with Timothy and Elizabeth helping out wherever needed. She loves spending time over there.
Saturday we helped sister Emma and Jacob butcher two hogs. We were done early in the afternoon. The hogs were smaller than ours so things went a little faster. Pon hoss was made and lard rendered. We had breakfast pizza for breakfast, along with chocolate chip bars, jello cake, and peanut butter pies.
For lunch the menu consisted of fried pork tenderloin, mashed potatoes, gravy, dressing, corn, macaroni salad, celery and carrot sticks, sliced cheese, tomato slices, and jalapeños that sisters Verena and Susan brought home from Florida. The desserts left over from breakfast were also on the menu plus ice cream.
My sisters had a nice time in Florida. Glad they are back home.
Saturday afternoon as Mose was bottling the maple syrup, some enjoyed ice cream with maple syrup as a topping. I didn't try it but the ones that did really liked it.
Daughter Verena spent the weekend in a community in Indiana at a friend's house. With Verena and Lovina both not home, the house seemed empty.
Sunday afternoon we had Joe's cousin Leander, wife Rosina, and family as our visitors. We enjoyed popcorn while we visited. The Leanders have four married sons and one lives only a few miles from us. They had supper with their son Leander and wife Karen.
We spent the day just at home relaxing. With my husband Joe working every other Saturday and butchering in between on Saturday, we were glad to rest.
I would like to express my thanks to Carol for the gift certificate from Ridgeway books. I am enjoying some new books that I always wanted to purchase. May God bless you for your kindness!
A reader requested my vegetable soup recipe to can. I really don't have a recipe but tried to write one down as close as I could to what I use.
Also, to all readers who have asked: Aggravation game boards made by my nephew Jacob can be ordered from Chupps at 269-659-3950. Call for prices.
God's blessing to all!
Vegetable Soup to Can
1 quart onions, diced
1 quart potatoes, peeled and diced
1 quart carrots, diced
1 quart celery, diced
1 quart corn
1 quart peas
1 quart green beans
1 quart cooked beef chunks (can be simmered or stewed until cooked through, or purchase cooked)
6 quarts tomato juice
1/2 cup brown sugar
Mix together. Season with salt and pepper to taste. Add garlic if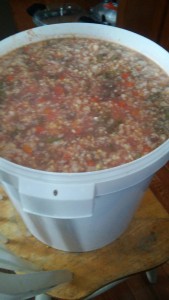 desired. Put in jars and process according to your pressure cooker instructions.
Lovina Eicher is an Old Order Amish writer, cook, wife and mother of eight. Formerly writing as The Amish Cook, Eicher inherited that column from her mother, Elizabeth Coblentz, who wrote from 1991 to 2002. Readers can contact Eicher at PO Box 1689, South Holland, IL 60473 (please include a self-addressed stamped envelope for a reply) or at LovinasAmishKitchen@MennoMedia.org.