Mornings are very cool lately here in southern Michigan. Another sure sign that autumn is here.
Our house seems extra empty this week. Daughter Verena, 18, is helping daughter Elizabeth with house work and the baby this week. Son Benjamin, 17, left Sunday afternoon with some friends for Pennsylvania. We miss them and look forward to having everyone home again for the weekend.
Baptismal services were held at our neighbors for a young girl in our church. This was held on Saturday instead of Sunday in order to make it possible for some friends to attend the service.
Monday we did laundry here and then went over to Elizabeth and Timothy's house to do their laundry. It was a sunny, breezy day after the early morning rain was over. And of course, we had to take time to hold sweet little Abigail! She is such a precious baby to all of us! She smiles a lot! Her eyes seem to be turning blue.
Verena stayed there and daughter Loretta and I came back home which was already after suppertime. Son-in-law Mose had made supper for everyone on the grill. Brats and hot dog sandwiches were on the menu. I was so glad I didn't have to get supper after doing all that laundry. I told my husband Joe that after that long day I actually felt like a Grandma! Ha, ha!
Friday evening Joe bought a new Serta mattress for our bed. We were certainly needing a new one. Well, between the mattress and a long day Monday, I was extra tired Tuesday morning. I woke up at 3:00 a.m., prepared Joe's lunch, and when he left at 3:40, I went back to bed and set my alarm for 5:40 a.m. When I woke up the sun was shining and I looked at my alarm and it was 7:45 a.m. already. The school children were still in bed and the bus had stopped by around 7:00 a.m.
Joseph, 14, quickly milked our cow Bessie and did the other chores while daughter Lovina, 12, and son Kevin, 11, helped pack lunches and made each of them a grilled cheese sandwich for breakfast. I called our friend Beth and asked if she would give the children a ride to school which she did. They arrived at school a half hour late. What a way to start the day! Joseph and Kevin were awake lying in bed but said they thought there might have been a fog delay and I left them sleep in. They had fun teasing me that they were tardy because I slept in.
Tomorrow at 5:30 a.m. we head for Berne, Indiana, to attend the wedding at brother Amos and Nancy's for their daughter Arlene, marrying Robert.
Our thoughts and prayers are with Timothy's cousin Paul's wife, Mary. She was a passenger in a minivan which was rear-ended while they were waiting for a semi-truck in front of them to turn. She has multiple injuries and a long recovery ahead. Life has changed for their family. May God be with them as they go through this difficult trial in life. We wish her a complete and speedy recovery. The driver of the minivan Mary was riding in was killed instantly and our sympathy goes to his family. The funeral will be held at the local funeral home tomorrow. He was well known in the community and worked as a driver for Paul and Mary's sawmill for years. We never know what our future holds.
I will share this recipe. It is a well-liked meal around here. God bless!
Italian Sausage and Potatoes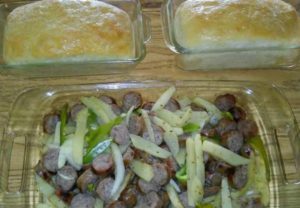 6 potatoes, sliced
1 large onion, sliced
2 large green peppers, sliced
2 pounds Italian sausage (sweet, mild, or hot; prefer Johnsonville        Brand, 5 links in each package cut in thirds)
1/2 cup olive oil
salt, pepper, oregano to taste
Mix sliced potatoes, onion, green pepper, salt, pepper, and oregano with olive oil. Bake in 9×13 pan covered (I use size larger) for 1/2 hour at 350 degrees. Remove from oven and drain. Cut sausage in pieces and add to potato mixture. Continue cooking for one hour or until sausage is done. Some broil this to finish cooking, uncovered, until sausage is browned.
Lovina Eicher is an Old Order Amish writer, cook, wife and mother of eight. Formerly writing as The Amish Cook, Eicher inherited that column from her mother, Elizabeth Coblentz, who wrote from 1991 to 2002. Readers can contact Eicher at PO Box 1689, South Holland, IL 60473 (please include a self-addressed stamped envelope for a reply) or at LovinasAmishKitchen@MennoMedia.org.