We had a nice rain tonight. Our rain gauge shows that we had more than a half inch. Our garden still has tomatoes, cabbage, green peppers and hot peppers left in it. Yesterday we canned almost eighty pints of pizza sauce. We gave twenty pints to Mose and Susan. We also canned hot peppers. Susan wants to make pizza casserole tomorrow night to try out the sauce.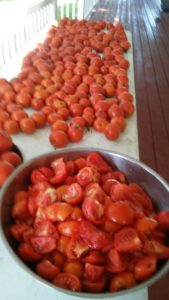 Mose and Susan are getting more settled as the weeks pass by. They have been helping Mose's parents, as they are hosting the wedding for Mose's brother Joe and his fiancée, Mary, next week.
I was asked to be cook at the wedding and to go help bake pies, etc., the day before. Mose and Susan will be table waiters at the wedding. Susan still needs to cut out and sew her dress for the wedding. With her working every day, I will probably have to help her get it sewn.
Saturday Joe and I and the six children here at home attended the picnic for the RV factory where Joe works. It was interesting to tour all the RVs and motorhomes that they make. We were served a good meal, and lots of door prizes and awards were given to the many, many employees. The grand prize was a Howard Miller grandfather clock. It rained and rained after lunch, but they had plenty of tents set up for everyone to stay dry.
A very happy birthday goes to sister Verena. She turned fifty on August 22. Mose, Susan and most of the children went over to sing "Happy Birthday" to Verena that evening.
Tomorrow morning I leave with daughter Susan for a town around 45 minutes away. Susan needs to get her married name put on her Social Security card, and she wants me to go along.
Tonight Mose grilled banana pepper poppers and I made chicken noodle soup. We still don't have all the water lines hooked up to Mose and Susan's living quarters, so it's easier for her to use my kitchen. Most often they just eat the evening meal with us.
The boys and Mose are often spending their free time having bow practice. Mose has a big target set up, so it's an easy place to test out their skills. Hunting season will be here before we know it. The boys passed their hunters' safety class earlier this year.
Saturday evening Timothy and Elizabeth came for supper. After supper Timothy, Mose, Loretta's special friend, Dustin, and son Joseph practiced shooting their bows. The girls and I just relaxed and visited. Joe has been working longer hours, so he's always glad to rest and get to bed earlier.
Daughter Verena and son Benjamin, with some other young folks, drove to northern Indiana with horses and buggies. They spent the night at niece Susan and Joe's house. The next morning they drove to brother Albert's. Church services were held at Albert's home. Their daughter Emma was baptized at the service.
Sunday afternoon Verena and Benjamin started the journey home. They had around twenty miles to go to get to niece Susan's house, and around seventeen miles to get home from Albert's house. Our horse Mighty handles these long trips really well. They do take their time, and let Mighty walk a lot of the time.
School doors will be opening in less than two weeks. Our school starts September 6. All three children will be in middle school. Joseph will be in eighth grade, with this being his final year of schooling. Where does time go? Lovina will be in sixth grade and Kevin in fifth. Kevin will be eleven next week. It seems like he was just born, and now he's already turning eleven!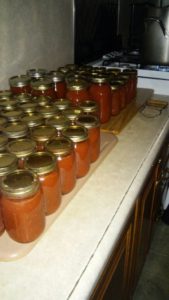 This is a recipe for breadsticks niece Elizabeth shared in our family cookbook. Our children like to dip them in pizza sauce.
Until next week, God bless!
Breadsticks
1 cup milk
1/4 cup sugar
1 teaspoon salt
8 tablespoons butter, divided
3 1/2 cups flour
1 1/2 tablespoon yeast
1/8 teaspoon garlic powder
1/4 teaspoon oregano
1 egg, beaten
pizza seasoning
Heat the milk, sugar, salt and 4 tablespoons butter; remove from heat as soon as butter is melted. Add the flour, yeast, garlic powder, oregano and beaten egg. Let rise until double. Roll out and cut the size you want. Melt the remaining 4 tablespoons butter in a pan, and sprinkle pizza seasoning over it; roll breadsticks in this mixture. Place breadsticks on cookie sheets and let rise again until double. Bake at 350 degrees for 15–20 minutes or until done. Breadsticks can be dipped in pizza sauce or cheese sauce when eating. Yield depends on the size of the breadsticks.
Lovina Eicher is an Old Order Amish writer, cook, wife and mother of eight. Formerly writing as The Amish Cook, Eicher inherited that column from her mother, Elizabeth Coblentz, who wrote from 1991 to 2002. Readers can contact Eicher at PO Box 1689, South Holland, IL 60473 (please include a self-addressed stamped envelope for a reply) or at LovinasAmishKitchen@MennoMedia.org.