Six weeks ago today I had my surgery. I am feeling pretty good but am still being careful about my blood clot. It gets better every day.
On Sunday I went to church for the first time since my surgery. I appreciated all the "welcome backs" and concerns for my health. On our way home Joe and I stopped in to visit with brother-in-law Jacob (sister Emma's husband). He was home from church with a bad backache. They had a vanload of visitors from Berne, Indiana, including Jacob's brother Martin and wife Edith and family. Also visiting were niece Elizabeth and Samuel and their daughter LaRose.
LaRose is sister Liz and Levi's first and only grandchild. She was a year old on November 10. She's running all over already. She's a little cutie! It looks like she keeps her mother busy. I imagine that sister Liz and Levi have many fun times with little LaRose.
The grandfather, Levi had hip replacement surgery last week, so he will be laid up a long time. We wish him a complete and speedy recovery!
Our annual church Christmas potluck dinner will be in two weeks after church services. On Sunday, all the women wrote down what dishes they will bring. Usually, while we are eating the Sunday meal a few weeks before Christmas, the women pass a tablet around the table. Everyone chooses what they will bring, such as a casserole, salad or dessert. This way we don't end up with more salads than desserts or the other way around.
Daughter Loretta, 16, traveled to Ohio to a family gathering with her special friend, Dustin, and his family. They had a six-hour drive there, so they left Friday evening and returned Saturday evening.
Sunday evening Timothy, Elizabeth and Abigail, Dustin, and all of us ate supper over at Mose and Susan's. Joe made chili in the kettle over an open fire, and he also grilled chicken. Mose baked a cake and we also had ice cream. Some of the children played games, and Joe and I had fun enjoying baby Abigail. She is such a sweetie and is growing so fast!
Daughter Verena will turn 19 on Saturday, December 10. It doesn't seem possible that she is that old.
Yesterday Verena and daughter Susan spent the day helping daughter Elizabeth with her work. Church services will be held at Timothy and Elizabeth's in January, so Elizabeth is getting a head start with her cleaning. With a baby in the house, time is limited. Life changes, and the baby's needs always come first.
Crystal's puppies are four weeks old, and they plan to sell them to good homes when they get old enough. It's just too much to have five little puppies in the house yet. They are very cute and playful.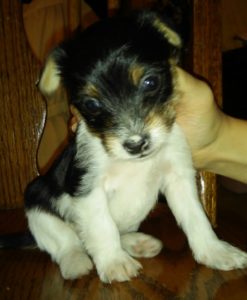 I received a get-well card from Uncle Elmer and Aunt Emma. Aunt Emma had written a letter as well, which I appreciated. It is always nice hearing from my mother's sisters. She had in her letter that Cousin Leah is home from the hospital after her accident, but has lots of healing to do yet. Our prayers are with her and the family!
Correction: I want to make a correction with an error that occurred in one of my recent letters. The two young girls that were killed in the tragic buggy accident were cousins to each other, not to me. It was a bit of a confusion to people who know me, so I wanted to make sure that is corrected. God bless!
Gold Rush Brunch Casserole
8 eggs, beaten
1 pound frozen Tater Tots or hash brown patties, thawed
1 pound sausage or ham, cubed
2 tablespoons onion, finely chopped
2 tablespoons parsley
1/2–1 pound shredded cheddar cheese
1/4 cup butter
1/4 cup flour
1 3/4 cup milk
1/4 teaspoon pepper
1/4 teaspoon salt
1 cup sour cream
Scramble eggs on stovetop and set aside. Place potatoes in bottom of greased 9 x 13-inch pan. Fry meat lightly and layer on top of potatoes along with onion and parsley. Layer scrambled eggs on top of meat. Layer cheese on top of eggs. Set aside.
Melt butter in a saucepan and whisk flour into butter, gradually adding milk. Cook and stir until thickened and boiling. Add pepper, salt and sour cream; mix well. Remove sauce from heat and pour evenly over casserole. Bake at 400 degrees for 30–40 minutes or until bubbly and heated through. Yields 6–8 servings.
Lovina Eicher is an Old Order Amish writer, cook, wife, and mother of eight. She is the co-author of three cookbooks; her new cookbook, The Essential Amish Kitchen, will be published in 2017. Readers can contact Eicher at PO Box 1689, South Holland, IL 60473 (please include a self-addressed stamped envelope for a reply) or at LovinasAmishKitchen@MennoMedia.org.