The Christmas holidays and family get-togethers are now over for another year. Yesterday, January 6, was Old Christmas (Epiphany) so everyone was home for the day. It was a day well spent with family. I had a baked meal with the menu consisting of meat loaf, scalloped potatoes, baked beans, lettuce salad, cheese, dill pickles, hot peppers, applesauce, sugar cookies, and zucchini bread. Daughter Elizabeth and Timothy joined us for part of the day. Of course their dogs Crystal and Izzy came along. The dogs are always so excited to come here and the children are equally happy to see them.
In the afternoon we played the game Life on the Farm. It is always a fun game even though it can last for several hours like Monopoly. The players have to buy cows but can lose them again. The first player that owns 60 cows and has $10,000 wins the game. Always an exciting game to play. Kevin, 10, and Lovina, 11, had fun playing also. Other games played were Aggravation, Connect Four, and Checkers.
On New Year's Day we went to Jacob and Emma's house for a haystack brunch. They had the tables set for all of us. Sisters Verena and Susan, Elizabeth and Timothy, and all the girls' special friends were there as well. Besides haystacks there were all kinds of desserts but no one was hungry after the haystack meal. We enjoyed snacks and desserts later in the day.
After dishes were washed we exchanged gifts. Nephew Steven had my name and gave me a 32 x 55 inch cutting mat to cut out clothes. I have a small one but am really going to like this bigger one. Daughter Lovina had my husband Joe's name and gave him an ice auger to drill holes in the ice when he goes ice fishing. This year so far it looks like he won't get to use it. I'm sure we will get colder weather yet. Son Joseph was given an ice fishing pole by son-in-law Timothy so he is also hoping for ice fishing weather. After the gifts were all opened we played games. A new game I played was Apples to Apples.
Jacob and Emma had the final inspection of the addition to their house approved. Their children have moved their clothes up to their new bedrooms. They were excited after living in a ranch style one-story house.
We all ate the haystack brunch in the new attached garage. They still have some remodeling to do as they want to tear out the bedroom walls and make a bigger kitchen, dining room, and living room. I am sure they will be glad when it's all done.
Church services are set here for January 17, so we have been kept busy cleaning. Sister Emma, her son Jacob, and her daughter Emma came on Tuesday to assist us in cleaning. We cleaned most of the basement and washed clothes. Saturday we will have more help so hopefully everything will get cleaned in time. We are heating our new building where we will host church services (where Tim and Elizabeth's wedding and church were held this summer).
I hope all of you had an enjoyable and safe holiday and may God bless you all in 2016 and always!
I'll share my sister Susan's cinnamon bread recipe. She brought this bread to Jacob and Emma's on New Year's Day.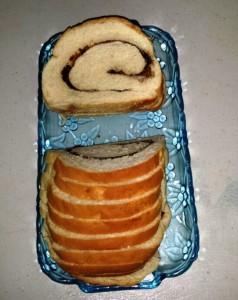 Soft Cinnamon Swirl Loaf
1 loaf frozen bread dough, thawed
1 1/2 tablespoons water
1/4 cup sugar
2 tablespoons butter, melted
1 tablespoon cinnamon
1/2 cup raisins (optional)
On a lightly floured surface, roll thawed bread dough into a 10×12 inch rectangle. With a pastry brush, paint the dough with the water, and then sprinkle the sugar and cinnamon evenly over dough. Top with raisins if desired. Roll up jellyroll-fashion beginning on the 12-inch side. Seal all seams and ends and place in a greased 8×4 inch loaf pan. Let the dough rise until double in size. Bake at 350 degrees for 30 minutes. Remove from pan to cool. When cool, brush with melted butter.
Lovina Eicher is an Old Order Amish writer, cook, wife and mother of eight. Formerly writing as The Amish Cook, Eicher inherited that column from her mother, Elizabeth Coblentz, who wrote from 1991 to 2002. Readers can contact Eicher at PO Box 1689, South Holland, IL 60473 (please include a self-addressed stamped envelope for a reply) or at LovinasAmishKitchen@MennoMedia.org.