As I write this, we are almost through March. April 1 is already Friday. Next week our three children will be home from school for spring break. Parent/teacher conferences will be held on Thursday. After spring break there are only nine more weeks of school left. It is hard to believe how fast this term is going.
My husband Joe planted quite a few Red Pontiac seed potatoes on Saturday. We have been wanting to also get some peas and radishes planted. We are hearing that we will have another cold week coming with temperatures below freezing. I hope it will miss us but we can't control the weather and need to accept what God sends.
Joe is always eager to start planting garden. It's a good thing that he is because I like to put it off as long as possible. I like planting garden when it's warm and I can go out barefooted to plant.
Daughter Susan has started training her pony, "Tough Boy," now. He is already two years old. She is line driving him and teaching him the commands. He is almost ready to hitch to the pony cart. Susan works at the RV factory then spends her evenings working with Tough Boy.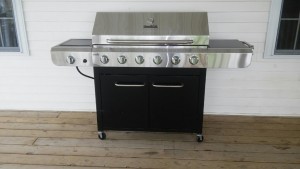 On Good Friday we had a nice relaxing family day. We set the table for all the family. The men and boys grilled the chicken while the girls and I prepared the rest of the menu.
Our meal consisted of mashed potatoes, gravy, dressing, barbequed chicken, corn, taco salad, Easter eggs, dill pickles, hot peppers, celery and carrot sticks, sliced Colby and Swiss cheese, homemade bread, butter and strawberry jam. Also Swiss roll bars (that daughter Elizabeth brought), cinnamon rolls, chocolate chip cookies, and ice cream.
It is always such a good feeling to sit down at the table when the whole family is present. Not everyone can do this and my heart goes out to broken families and also to families that have had loved ones that passed on before. God has given us so many blessings and so much to be thankful for. Do we thank God enough for all he provides for us?
Our five daughters fixed a tray of food to take over to our 88-year-old neighbor Irene. They walked it over to her house before we started eating. We also made mashed potatoes for our neighbor Joe's little daughter Jaylyn. She had her tonsils removed and is only allowed soft foods. She loves mashed potatoes and we had more than enough for us. It is nice to have good neighbors.
Our afternoon was spent playing games. Joe has a croquet set that eight people can play but outside the wind was chilly so it was decided to play games indoors.
Daughter Susan is still only working four days at the factory so she will be home on Friday. Daughter Elizabeth has plans to come home on Friday. It's always enjoyable to work with the girls.
Son-in-law Timothy is allowed to start putting weight on his foot. He is slowly getting around but still relies on his crutches at times.
This week I'll share the recipe for Ho Ho Cake, which is kind of like a giant Hostess Ho Ho if you're familiar with those. Several readers have requested it.
God's blessings to all!
Ho Ho Cake
Bake one chocolate cake in a 9×13 inch pan. Let cool.
Topping 1:
5 tablespoons flour
1 1/4 cups milk
1 cup sugar
1/2 cup oleo
1 cup shortening
Mix flour and milk in saucepan and cook until thick, stirring constantly. Cream together sugar, oleo, and shortening. Add flour mixture, beat well and put on cake.
Topping 2:
1/2 cup oleo
1 egg
3 tablespoons cocoa
2 1/2 tablespoons water
1 teaspoon vanilla
1 1/2 cups powdered sugar
Melt oleo and cocoa together. Cool. Beat egg, vanilla, and water; add powdered sugar, blending well. Stir with oleo/cocoa mixture. Pour this topping over first topping on cake and refrigerate.
Lovina Eicher is an Old Order Amish writer, cook, wife and mother of eight. Formerly writing as The Amish Cook, Eicher inherited that column from her mother, Elizabeth Coblentz, who wrote from 1991 to 2002. Readers can contact Eicher at PO Box 1689, South Holland, IL 60473 (please include a self-addressed stamped envelope for a reply) or at LovinasAmishKitchen@MennoMedia.org.