The sun is shining bright but the mercury is only at 16 degrees. We have had our share of cold weather.
I am very excited to share the news that Joe and I are grandparents for the second time! Jennifer Susan was born at 7:46 a.m. on January 15, 2018, to daughter Susan and Mose. She was 8 pounds, 10 ounces and 20 inches long, and she has a head full of black hair.
And if that isn't enough excitement, I have more! Susan, Mose and baby Jennifer are staying with us since they were released from the hospital. How precious to hear that sweet cry during the night hours. She's already smiling and has won all our hearts.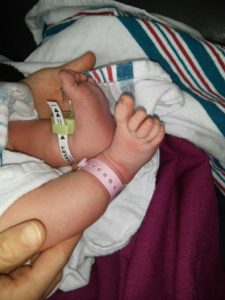 Susan was diagnosed with toxemia, but she is recovering as well as can be expected. That's why they are staying with us for awhile until she feels better. Otherwise, mother and baby are doing just fine. And little Jennifer has more babysitters than she needs. I do not hear anyone complaining—except maybe for the fact that they think they might be getting cheated out of their turn holding the baby! Even Grandpa Joe asks for his turn to hold her.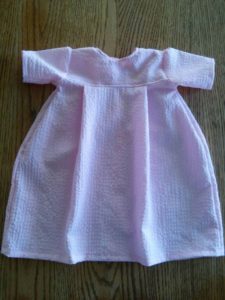 Daughter Verena is sitting in front of a tote bag full of baby clothes, deciding what she will put on her next. Daughter Elizabeth, after hearing the news that it's a girl, went right to work, and a half hour later had a new pink dress sewed for Jennifer.
Last night Timothy, Elizabeth and Abigail came to see little Jennifer again. I told them to stay for supper. I made hamburger potato casserole and husband Joe grilled fresh pork chops from our recent hog butchering.
Sixteen-month Abigail is not so sure she likes her new little cousin, Jennifer. She was confused when she saw Aunt Susan with a baby. I am sure she will soon grow to love her little cousin and they will have lots of fun times ahead.
Mose's four sisters came to meet their new little niece last night. Mose's sister Hannah's little four-year-old daughter, Alissa, is still in the hospital. She was admitted four weeks ago after suffering injuries from a buggy-car accident. Hannah, her husband Leroy and their four children were hit in their buggy by a drunk driver. All six were taken to the hospital. They have all been released now except Alissa. Christmas was a sad holiday for this family, with the day being spent mostly in the hospital. Alissa has to stay in the hospital for three more weeks until she is back at home with her family, and she has lots of therapy ahead. She will be five years old on January 20. Prayers for the family are appreciated! The horse was killed in the accident, and the buggy demolished.
Church services were set Sunday to be at Jacob and Emma's house on January 28. I want to go help Emma tomorrow with her cleaning. Daughter Elizabeth plans to help too. Timothy and Elizabeth will host church services at their house two weeks after Jacob and Emma host, so we need to help her too.
Life seems to just get busier for this grandma! I am glad to have good health to work. So often we take our good health for granted. Having children with disabilities has taught me much patience and to take one day at a time. And I think I worry more when my daughters have babies than when I was having them myself! Susan wanted me to be there with her and Mose when Jennifer was born. We have an amazing Creator, and we thank God for all his blessings he has given to us. I wish God's blessings on all of you as well.
I will share the hamburger potato casserole with you. It is a favorite around here and has been a favorite since I was a little girl at home. The potatoes and meat get fixed all at once in a skillet—no oven.
Take care!
Hamburger Potato Casserole
1–2 pounds raw hamburger
8–10 medium potatoes
1 medium onion
2 cans cream of mushroom soup
Seasonings of your choice
Colby cheese slices
Press the hamburger onto the bottom of a skillet with a lid. With a salad-maker, shred potatoes and onion on top of hamburger (you do not need to peel the potatoes). Then top with cream of mushroom soup (do not add milk). Season to taste.
Turn the burner onto a medium heat and cook until potatoes are soft, about 25–30 minutes. Layer cheese on top after the potatoes are soft. Turn off the burner and cover until cheese has melted.
Lovina's Amish Kitchen is written by Lovina Eicher, Old Order Amish writer, cook, wife and mother of eight. She is the co-author of three cookbooks; her newest cookbook, The Essential Amish Cookbook, is available from 800-245-7894. Readers can write to Eicher at PO Box 1689, South Holland, IL 60473 (please include a self-addressed stamped envelope for a reply) or at LovinasAmishKitchen@MennoMedia.org.