We are already more than halfway through June 2015. The year is going way too fast!
On Saturday my husband, Joe, had to work at the RV factory. They are very busy, which makes it hard for him to get caught up with work here at home.
The rest of us helped Timothy move his belongings to his new place on Saturday. Joe biked over after he came home from the factory. It was a very hot and humid day. Some of Timothy's family were also there to help.
On Sunday in church, daughter Elizabeth and Timothy were published to be married. "Getting published" in an Amish congregation means publicly announcing your engagement. They chose August 14, 2015, for their wedding day. We have a lot to do to prepare for this wedding! It will also be a very big change for our family: the first of our precious children to move away from home and start a new life. Congratulations to Timothy and Elizabeth! Timothy is a wonderful, kind man, and we are happy to have him join our family. He is the last of his 10 siblings to get married, while Elizabeth is the first of her 8 siblings. Timothy has a lot of nieces and nephews already.
The wedding services will be held over at our neighbors' (Joas and Susan's) place. The reception will be here in our new pole barn.
We still have quite a bit of sewing to do before the wedding. Elizabeth sewed her wedding dress. She also sewed Susan's and Loretta's. We still need to sew dresses for Verena, Lovina, and me. Then we also need to sew new shirts for the boys and Joe. We had hoped to have all the sewing done this spring, but with all the sewing we had to do for the other weddings, we are running behind.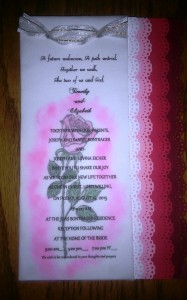 Timothy's sister was making the wedding invitation for Timothy and Elizabeth. She had a baby several weeks ago and was running out of time to finish them. On Saturday after we had everything moved for Timothy, the girls and I and some of his family helped finish some of the wedding invitations. Timothy's brother-in-law dropped off the rest today, so we need to finish them so that Elizabeth can send out the rest of her invitations. They are very nice, but they took a lot of time. Also, my friend Ruth deserves the credit for printing the top of the invitation.
Elizabeth's 21st birthday was on Sunday too. The church sang "Happy Birthday" to her. We surprised her in the evening with an ice cream cake. Chicken was also on the menu.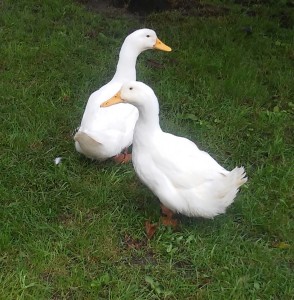 The ducks, Donald and Daisy, that Susan's friend Mose bought for Lovina, 11, and Kevin, 9, are really growing. They stay around the barn and enjoy this rainy weather.
This week I'll share my recipe for breakfast pizza. We made it for breakfast one morning this week.
I am sorry for getting behind with reader mail. Please have patience with me, as it will be very busy the next few months.
God's blessings to all!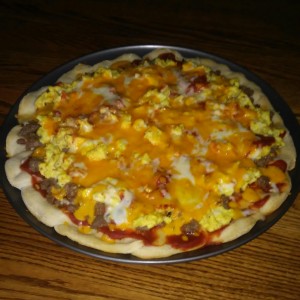 Breakfast Pizza
1 pizza crust
1 cup pizza sauce
12 eggs, scrambled
1 pound bacon, fried and crumbled
1 pound sausage, browned
1/4 cup onions, chopped
1/4 cup green peppers, chopped
1/4 cup mushrooms, sliced
1 cup mozzarella cheese, shredded
1 cup Colby cheese, shredded
Use your favorite pizza crust recipe. Spread pizza sauce on the crust. Layer all other ingredients on top and sprinkle with shredded cheese. Bake according to your crust's instructions.
Lovina Eicher is an Old Order Amish writer, cook, wife and mother of eight. Formerly writing as The Amish Cook, Eicher inherited that column from her mother, Elizabeth Coblentz, who wrote from 1991 to 2002. Readers can contact Eicher at PO Box 1689, South Holland, IL 60473 (please include a self-addressed stamped envelope for a reply) or at LovinasAmishKitchen@MennoMedia.org.