Oh how good to see the sun shining this morning! We had rainy, dreary weather all weekend and until this morning (Wednesday). Is it possible that we have already entered the month of May?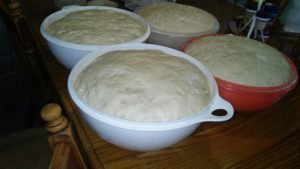 We had a nice time in South Holland, Illinois, over the weekend. The book signing at Peace Church was a success due to the many helping hands of the recipe testers for the new cookbook, and of course my good friend Ruth. She did more than her share to organize all this. I want to thank all the readers who came. It was so encouraging to hear your kind words. May God bless you each and every one!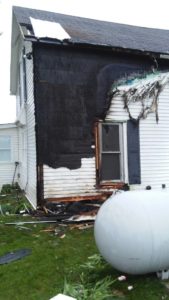 We had decided to stay Saturday night in Illinois and come home Sunday. Around midnight we received a call letting us know that my sisters Verena and Susan's house was struck by lightning and was on fire. It was windy and for a while it looked hopeless for the firefighters to save it. But the firefighters did some quick work and the structure was saved, although there was a lot of water damage.
Plans are to rebuild half of the house and try to repair the other half.
After the firefighters left they wanted someone to keep watch on the house to make sure fire didn't start up again. Mose (son-in-law), Dustin (Loretta's special friend) and Menno (niece Emma's special friend) worked hard all night to move furniture out before the ceiling came down. Son-in-law Timothy also came to help once he found out what was going on. Daughter Elizabeth and little Abigail stayed at our house since it was so cold and rainy. During this time we were a few hours away. I wish I could have been there to help but a person never knows. I am just so thankful that no lives were lost. That is what matters most. Material things can be replaced but lives can't.
This is now Thursday and I still need to finish this column. Sisters Verena and Susan are staying with us ever since the fire. Daughter Verena moved into our daughters' Loretta and Lovina's bedroom so my sisters can use Verena's bedroom.
Meanwhile, amidst everything going on, I am managing to get the clothes sewn for Jake and Lisa's wedding. Verena and Loretta's suits are done. I have to finish my dress and then sew my cape and apron.
Next week is our neighbor girl Regina and Wayne's wedding. I was asked to help bake pies on Thursday and cook at the wedding on Friday. It's a busy time of the year and lots of weddings in this community. My dress for that wedding is cut out and waiting to be sewn. Daughter Susan is a cook at the wedding also. Daughter Elizabeth took Susan's dress home to sew it for her. With Susan working full time again, it's hard for her to find time to sew. Elizabeth was here for the day yesterday. She cut out dress pants for our son Benjamin. Loretta and I were glad for her help with the laundry. It ended up being a nice drying day for laundry.
Since I was busy sewing my husband Joe made supper on the grill. Those joining us for supper besides sisters Verena and Susan, were daughter Susan and her husband Mose, plus Moses's brother Freeman and Loretta's friend Dustin.
This morning sisters Verena and Susan did my weekly cleaning before they headed back to their house for the day. They are sorting through the mess and saving what is still okay. Thanks for all your prayers on their behalf. It is greatly appreciated.
I will share the recipe for frozen mocha dessert that I helped make for niece Emma's wedding a few weeks ago. This is an easy dessert to make ahead of time if you are taking a dessert somewhere, or having company. Very tasty!
God bless you. Until next week, take care!
Frozen Mocha Dessert
2 teaspoons instant coffee
1 tablespoon hot water
¼ cup melted butter
3 cups crumbled Oreo cookies
16 ounces cream cheese
½ cup chocolate syrup
1 can sweetened condensed milk
16 ounce container whipped topping
small amount caramel syrup
Dissolve coffee in hot water. Mix butter with cookie crumbs. Put 2 ½ cups of crumbs on bottom of pan. Reserve ½ cup for top. Combine cream cheese, coffee mixture, sweetened condensed milk, and chocolate syrup. Beat well and add whipped topping. Cover and freeze a few days before serving. Drizzle with caramel syrup before serving.
Lovina Eicher is an Old Order Amish writer, cook, wife and mother of eight. She is the co-author of three cookbooks; her new cookbook, The Essential Amish Kitchen, is available from 800-245-7894. Readers can write to Eicher at PO Box 1689, South Holland, IL 60473 (please include a self-addressed stamped envelope for a reply) or at LovinasAmishKitchen@MennoMedia.org.