This column will wrap up my columns for February 2015. This year is going way too fast for me to keep up. I remember Mother telling me that the older your children get, the faster time goes. I see that is very true!
I often would be glad to have one more conversation with Mother. God had other plans, and I need to accept His will. Mother always had good advice. Especially when the children were sick, she would come over and take care of everybody. Memories—I'll treasure them always!
We are all well again here at the Eichers. So many blessings to thank God for! Susan is still under a doctor's care but is back to work. The chiropractor says she has pinched nerves in her neck. Susan is active and always full of energy. She is looking forward to training Prancer, our miniature pony, as the weather warms up. Prancer will be two years old in April. Benjamin is also glad to be going back to work.
Tonight we are getting a milk cow. This has been all the boys have been talking about. We sold our cow when we lived in Indiana. Since our move to Michigan almost 11 years ago, we have not had a milking cow. We go through so many gallons of milk in a week so the milk will be good to have. I would also like to make our own butter. Another thing I would like to try that I've never done is making cheese. If any of you readers have a good recipe for cheese, I would be happy to have it.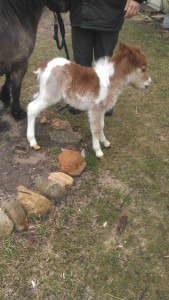 Sunday our family, Timothy, and Mose attended the baptismal services in Nappanee, Indiana, for niece Salome. Her special friend, Myron, was also baptized with her. What a blessing to the family and church!
We were all able to meet Henry and Loretta's sweet little Damaris. The girls and I had fun holding her during church services. She was really smiling. She's just a tiny bundle of joy, but her smile lit up the whole room.
Niece Verena and Melvin's little Micah is already 11 months old. He is growing fast too. He's a sweetie! Joe's sister Christine, husband Jake, and nine children from Hershey, Michigan, were also there. It was good to see Melvin and Verena and Jakes again.
We also met Myron's family. Everyone was friendly. We appreciated the hospitality. It's always nice to visit other church districts in other communities and meet new people.
Friday evening we are invited to the local community building for Salome's 19th birthday supper. Salome was born on February 29. Jake, Christine, and family have plans to come for this. It sounds like they might come to our house to sleep on Friday and Saturday evenings. Daughter Verena has some friends coming for the night as well. Somehow we will find room for everyone—the more the merrier!
Son Kevin and Jake and Christine's son Matthew always have so much fun together. On Sunday after church, Kevin and Matthew were walking beside each other. Both were talking at the same time. I don't think either of them was listening to the other! We had to laugh as we watched them. Seemed like they had so much to catch up on.
I'll share a recipe for a favorite soup of ours this week.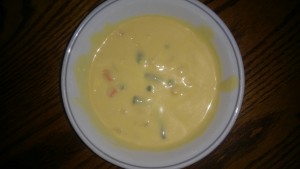 Vegetable Cheese Soup
1/4 cup butter
1/4 cup onion, minced
1/4 cup flour
4 cups milk
pinch salt
1 cup cheddar cheese, grated
1 10-ounce package mixed vegetables, cooked
Melt butter in saucepan. Add onions and sauté until onions are clear. Blend in flour, milk, and salt to taste. Cook until thick, stirring constantly. Add cheese and stir until melted. Add cooked vegetables. Let simmer for a while. You can add your own vegetables from the garden, such as corn, peas, or carrots.
Lovina Eicher is an Old Order Amish writer, cook, wife and mother of eight. Formerly writing as The Amish Cook, Eicher inherited that column from her mother, Elizabeth Coblentz, who wrote from 1991 to 2002. Readers can contact Eicher at PO Box 1689, South Holland, IL 60473 (please include a self-addressed stamped envelope for a reply) or at LovinasAmishKitchen@MennoMedia.org.