This is already the last day of September. Only three more months of 2015 remain. Time—it does not stand still.
Joe and I traveled to New Haven, Ind., one evening with sister Emma and Jacob and sisters Verena and Susan. We attended the viewing of my dad's cousin Frances. Our sympathy goes to the family. It is so hard to part with loved ones. God's ways are not our ways!
Saturday and Sunday seemed empty around here. Susan, Verena and Benjamin traveled with Mose and his family to visit relatives in another community.
Timothy and Elizabeth joined us for Sunday dinner. And of course also Izzy and Crystal. Timothy helped Joe grill some pork chops and banana peppers. Scalloped potatoes, baked beans, potato salad, sliced cheese, brownies (which Liz brought), and ice cream were also on the menu.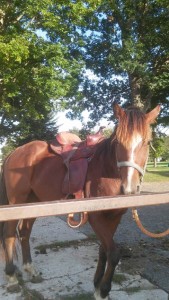 In the afternoon Timothy and Joe walked back to the woods. Joe spent part of Saturday back there getting ready for deer season. The rest of the afternoon was spent relaxing.
We ended up with 62 quarts of pickled red beets. I gave Elizabeth 12 quarts to take home. We had a bumper crop!
Daughter Susan is back at the RV factory so she gets to eat lunch with Elizabeth every day. The girls are glad to have this time together again. It sure feels empty without Elizabeth home anymore but she is happily married and that makes it easier to let go. Susan quit working at the woodworking shop. There was a lot more heavy lifting and the stain smell gets bad. She has her old fast-paced job again.
Jacob, Emma and family took a few days off and traveled to upper Michigan and spent time by Lake Superior. Our children went to do chores for them while they were gone. Jacob and Emma have a big project they are starting. They are adding an addition to their house and remodeling. It will be a mess to go through, but they will be glad for the space afterward.
Tomorrow we are invited to Joe and Viola's wedding. Viola is a girl in our church. Some of the children and I plan to attend. Joe doesn't want to take off since he used so many vacation days up already on weddings this year.
We have invitations for two more weddings in October. Both are on a Friday and Joe doesn't have to work on those two Fridays. Congratulations to Lester and Loretta from New Haven, Ind. Daughter Verena is a table waiter at their wedding. Verena and Loretta have been friends for quite a few years.
Also congratulations go to Aden and Ruth, who are published for an Oct. 16 wedding. I need to sew daughter Loretta's dress and my own for this wedding. I hope to get the material today.
I am trying to get my cabbage used up. We had a great crop from the garden. Try this coleslaw recipe.
God bless!
Coleslaw
8 cups cabbage, chopped
1/2 cup carrots, shredded
1/2 cup onion, chopped
1/2 cup celery, chopped
1/2 cup mayonnaise
1/3 cup sugar
1/4 cup milk
1/4 cup buttermilk
1 1/2 tablespoons white vinegar
2 1/2 tablespoons lemon juice
1 teaspoon salt
1 teaspoon black pepper
Combine cabbage, carrots, onion, and celery in a bowl. Beat the remaining ingredients in another bowl until smooth. Mix with cabbage mixture. Cool for at least two hours before serving.
Lovina Eicher is an Old Order Amish writer, cook, wife and mother of eight. Formerly writing as The Amish Cook, Eicher inherited that column from her mother, Elizabeth Coblentz, who wrote from 1991 to 2002. Readers can contact Eicher at PO Box 1689, South Holland, IL 60473 (please include a self-addressed stamped envelope for a reply) or at LovinasAmishKitchen@MennoMedia.org.