Everyone has gone to bed and I am still here at the kitchen table, writing. I think I am almost caught up in answering all my reader mail. The ones I have left need a recipe they lost. The recipes take time to write out, so please have patience with me. Sometimes my friend, Ruth, prints them out for me, which makes it so much easier.
Last Friday was the wedding day for niece Emma and Johnny, at my brother Albert's. My job was to help with the mashed potatoes. On the menu were mashed potatoes, gravy, noodles, dressing, barbecued chicken, corn, lettuce salad, cheese, frozen mocha dessert, fruit salad and angel food cake, as well as pecan, peanut butter, raspberry and ground cherry pies.
My husband, Joe, helped grill more chicken in the afternoon. Joe and I also served punch to the family, cooks and youth in the evening. It was an enjoyable but long day. Daughter Verena was a tablewaiter. Daughters Elizabeth and Susan were also cooks. In the evening Timothy, Elizabeth, Mose and Susan were evening servers.
Sunday was Easter day. I hope everyone had a blessed Easter. Our family was here for the day.
Friday in two weeks is the wedding of Jake and Lisa (Dustin's brother). I have three suits to sew before then.
Yesterday I signed copies of my new cookbook, The Essential Amish Cookbook, in Shipshewana, Ind. at J. Farvers bookstore. Mark was a great host and so were his employees. They made a lot of the recipes from my new cookbook, and everyone was able to taste them.
A list of the upcoming book signings will be listed is at the end of this column. I look forward to meeting with many readers at the book signings. Thanks to all the readers who are buying the new cookbook. I saw it for the first time in print yesterday. It turned out really nice! Lots of hard work went into this book but seeing the finished product makes it worth all the time invested.
A list of upcoming book signings  is below
Sat. April 29:  9 a.m. – noon – South Holland, Ill.
Peace Church (Where Ruth goes to church and many women helped test recipes from there)
833 East 168th Street
South Holland, IL 60473
Sat. May 6: 11 a.m. – 2 p.m. – Warsaw, Ind.
Dorothy's Hallmark/The Party Shop
3418 Lake City Hwy
Warsaw, IN 46580
Sat. May 13: 10 a.m. – noon – Fort Wayne, Ind.
Barnes & Noble –Glenbrook Square
4201 Coldwater Rd B-01
Fort Wayne, IN 46805
Fri. May 19: 6 – 8 p.m. Goshen, Ind.
Better World Books
215 S Main St
Goshen, IN 46526
Sat. May 20: 12 noon to 3 p.m.  Mishawaka, Ind.
University Park Mall
Barnes & Noble 2358
6501 North Grape Road
Mishawaka, IN 46545
Sat. May 27: 10:00 a.m. to noon. Battle Creek, Mich.
Barnes & Noble
Lakeview Square Mall
5701 Beckley Rd., Lakeview Square
Battle Creek, MI 49015
Sat. June 3: 1-4 p.m.
The Blue Gate Restaurant
105 E Middlebury St
Shipshewana, 46565
Berne, Ind. Swiss Days:
Faith & Life Books –
July 28 5-7 pm
Jilaine Graber
159 W. Main St
Berne, IN  46711
I will share a recipe from the cookbook for Hobo Suppers. We make these a lot during the hot summer evenings so we don't have to have any heat in the house to cook.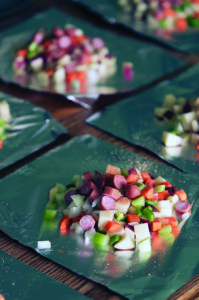 Until next week . . . God bless!
Hobo Suppers
10 red potatoes, unpeeled and cut into chunks
1/2 cup onion, diced
1/2 cup green peppers, diced
2 cups carrots, sliced
1 cup celery, chopped
1 (16-ounce) package smoky links or 1 pound smoked sausage, cut into pieces
salt and pepper, as desired
cheese, sliced
Preheat grill to medium-high heat.
In a bowl, mix all the ingredients together except the cheese. Divide the mixture into the amount you want for each serving, placing individual servings on sheets of aluminum foil. Fold foil over, wrapping tight, and set on grill for 10 minutes on each side.
Open up foil; if potatoes are soft, add a slice of cheese. (If potatoes need more time to cook, close pouches and return to grill before adding cheese.) Rewrap and grill a few more minutes until cheese is melted.
Alternatively, can be cooked in oven at 400 degrees for 10 minutes, then turned over and cooked for 10 additional minutes. Check doneness of potatoes before adding cheese.
Lovina Eicher is an Old Order Amish writer, cook, wife and mother of eight. She is the co-author of three cookbooks; her new cookbook, The Essential Amish Kitchen, is available from 800-245-7894. Readers can write to Eicher at PO Box 1689, South Holland, IL 60473 (please include a self-addressed stamped envelope for a reply) or at LovinasAmishKitchen@MennoMedia.org.