Drawers that stick have got to go: Lovina helps sons organize space
It is Wednesday evening and I still haven't taken time to write this column. Daughters Verena, Loretta, and Lovina are washing supper dishes. The boys and Joe are just relaxing and getting cleaned up.
Our supper was a simple, easy one. Verena and Loretta made One-Kettle Soup for our meal. Also on the menu were crackers, cheese, and venison summer sausage. One-Kettle Soup is a soup my mother always made at home. It is a favorite in our family. A quick soup when you're running late for a meal.
While the girls prepared supper, I helped the boys sort through clothes in their bedroom. We put a bedroom suite in there that we bought at a recent auction. We needed some dressers replaced. After our house fire we had some older dressers given to us, but the drawers always would get stuck. Benjamin, 16, has his own bed and Joseph, 13, and Kevin, 10, share a bed. Our bedrooms upstairs are big rooms so there is enough space to fit two beds plus four dressers. Kevin was proud to have his own dresser for his clothes.
Daughters Elizabeth and Susan are off work from the RV factory this week. Elizabeth and her dogs spent the day here yesterday. We had a nice day together. Timothy went deer hunting in the evening and was excited to get a 7-point buck with a 16 1/2 inch spread. This is the fourth deer he shot with his compound bow this year. They are getting their freezer stocked for the winter.
Tomorrow daughters Susan, Verena, Loretta, and I plan to go to Elizabeth's house to help her do some cleaning. With her working every day she doesn't always get to do all the extra cleaning. We will probably wash her windows and whatever else she needs done.
When Timothy and Elizabeth were here for supper one night and were ready to leave, Izzy went to hide. It was so cute that she wanted to stay here. She gets so spoiled. Crystal is different and will whine if Elizabeth goes outside without her. Whenever Elizabeth sits down, Crystal is right by her side or on her lap.
Recently, we were surprised to have visitors from Ohio. It was Joe's Uncle Solomon and his Aunt Rachel. They had been here the evening before with intentions to spend the night here. We had been at our neighbor Ruth's wedding. We had a voicemail when we came home from Solomon. They had already checked in at a motel but Joe told them to come for breakfast. We had a nice visit with them. This was the first time Rachel saw where we live.
Daughter Susan just came home. She went to Mose's house tonight and then they went to town. Mose wanted to buy a new mattress for his bed. He took Susan out for supper. The rest are all in bed so I think I'll join them.
God's blessings to all!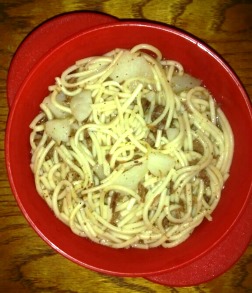 I'll share the recipe for One-Kettle Soup this week. I hope you will enjoy it as much as we do.
One-Kettle Soup
1 pint canned chunk beef
4 medium potatoes, peeled and diced
1 medium onion, left whole
1/2 pound noodles or thin spaghetti
salt and pepper
Fill a six-quart kettle with around three quarts of water. Add beef, potatoes, and onion. Boil 8–10 minutes, then add noodles. Stir often and boil until noodles are soft. Add salt and pepper to taste. Remove onion.
Note: More or less water can be added and more or less noodles. If I have company we add more to make a bigger amount.
Lovina Eicher is an Old Order Amish writer, cook, wife and mother of eight. Formerly writing as The Amish Cook, Eicher inherited that column from her mother, Elizabeth Coblentz, who wrote from 1991 to 2002. Readers can contact Eicher at PO Box 1689, South Holland, IL 60473 (please include a self-addressed stamped envelope for a reply) or at LovinasAmishKitchen@MennoMedia.org.