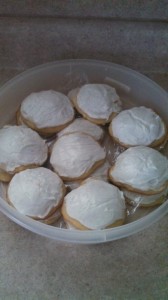 My name is Lovina Eicher. I have been married for 21 years to my loving husband, Joe. We feel blessed to be parents to eight sweet, wonderful children: Elizabeth, 20; Susan, 18; Verena, 16; Benjamin, 15; Loretta, 14; Joseph, 12; Lovina, 10; and Kevin, 8. We are members of the Old Order Amish church in Michigan. I hope you will continue to enjoy my writings under my new column name: Lovina's Amish Kitchen. I thank each of you for your continued support, and may God bless each of you!
For this week's column, I will do a diary of a day in our life.
3:20 a.m. Our alarm rings, letting us know it is time to start another day here at the Eichers. I pack lunch for my husband, Joe, and fill his water jug with ice and water.
3:55 a.m. Joe leaves for work. One of our neighbors has been picking Joe up to take him to work for over nine years. It is a 40-minute drive to work. I go back to bed after Joe leaves.
5:00 a.m. I get up again before daughters Elizabeth and Susan leave for work.
5:20 a.m. The girls leave for their jobs. I decide to catch up on some writing and reading until I wake the rest of the children. Since school is out, I let them sleep later.
6:30 a.m. Everyone is up now. Benjamin, Joseph and Kevin are doing the morning chores. We have four big calves and five small calves, three horses, six ponies and about 40 chickens that need to be fed. Lovina is taking care of daughter Elizabeth's puppy, a Yorkshire Terrier. Verena and Loretta are making scrambled eggs and toast for our breakfast.
7:30 a.m. Breakfast is ready to eat. We have a full day planned ahead.
8:15 a.m. Loretta and Lovina are washing breakfast dishes and cleaning the floors. Verena and I are washing laundry. It looks like a very nice drying day.
12:00 p.m. Laundry is on the lines. The house is looking better: floors are mopped, dishes are washed. The boys are cleaning out the horse stalls. They come in for lunch, which is vegetable soup and bologna sandwiches. It is a hot day, so after lunch we all take a break.
2:00 p.m. Verena and Loretta are getting the laundry off the lines. Lovina is cleaning out Elizabeth's puppy's playpen area.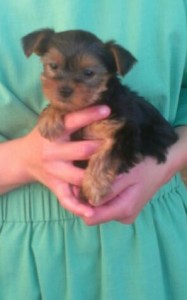 Her puppy, Izzy, is usually loose in the house when the floors are clean. She isn't allowed to have table food, so we always make sure no crumbs are around the table after we eat. She will always be a small dog and weighs less than two pounds. We never had a house dog before. So far it hasn't been too much of a problem. She is litterbox-trained, so she doesn't have to be taken outside. The boys go back out to the barn and I finish up some sewing. With two nieces getting married in July, it makes for a lot of new outfits to be sewn.
4:00 p.m. The girls come home from work and Joe soon after them. Susan wants to bake sugar cookies for one of the girls who brought her home from work. She mixes up a big batch and puts it in the freezer while she showers. The recipe says to chill dough for a few hours or overnight, but when we are in a hurry, we put it in the freezer to chill.
5:00 p.m. Joe and the boys leave to go fishing by a nearby lake. Susan is baking cookies. Elizabeth is sewing a dress for an upcoming wedding. The other girls are folding laundry or helping with supper.
7:30 p.m. Supper is late tonight. Joe and the boys came back with almost 40 fish, so they cleaned those first. Susan is almost done frosting the cookies, and we will finish the rest tomorrow. On the supper menu are mashed potatoes, beef and noodles, lettuce salad, cheese, fresh strawberries and sugar cookies.
On the supper menu are mashed potatoes, beef and noodles, lettuce salad, cheese, fresh strawberries and sugar cookies.
8:30 p.m. Most of the children are biking. Loretta is swinging on the porch swing and I'm on the porch, writing. Joe is resting on his recliner. It's been a long, warm day, so it feels good to relax.
9:30 p.m. Everyone is in bed, so I think I'll head there too. I'll share the sugar cookie recipe Susan made. My oldest sister, Leah, always made these. I just love them but never had any luck making them. Susan makes them just like Leah does.
Sugar Cookies
4 cups white sugar
2 cups lard (or use 1 cup margarine, softened, and 1 cup lard)
3 cups buttermilk or sour milk
3 eggs
2 tablespoons baking soda
2 tablespoons baking powder
2 tablespoons lemon juice
1 teaspoon vanilla
½ teaspoon salt
9–10 cups flour (just enough that you can handle dough)
Mix all ingredients except flour. Gradually add flour, mixing well. Chill dough for a few hours or overnight. Drop by teaspoon on a greased cookie sheet and bake 10 minutes or until bottom is golden. When cool, frost if desired.
Lovina Eicher is an Old Order Amish writer, cook, wife and mother of eight. Formerly writing as The Amish Cook, Eicher inherited that column from her mother, Elizabeth Coblentz, who wrote from 1991 to 2002. Readers can contact Eicher at PO Box 1689, South Holland, IL 60473 (please include a self-addressed stamped envelope for a reply) or at Editor@LovinasAmishKitchen.com.