Signs of autumn are everywhere! The trees here in southern
Michigan are absolutely beautiful as the leaves start changing color.
Its 5:45 a.m. and son Benjamin is leaving for work. My husband Joe left around 3:40 a.m. for his job at the RV factory. Son Joseph is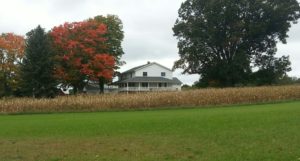 getting Bessie the cow in for her morning milking. Benjamin feeds the horses and Joseph takes care of the cow and calves.
It is raining this morning after some gorgeous autumn days. The temperature is staying in the mid-fifty's. It looks like laundry will be put off until tomorrow. Daughter Verena plans to bake monster cookies today. We will take some to church on Sunday at our neighbor's house. The rest will be for lunches and snacks around here.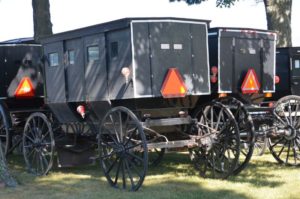 Saturday we took four horse and buggies from here the six and one-half miles to Loretta's friend Dustin's place. They live to the west and the roads get more rolling, making it a little harder for the horses to pull the buggies up and down the hills. The brakes on the buggies help a lot. Joe and I took Ginger our twelve-year-old horse. Joseph, Lovina, and Kevin took our pony Stormy. Benjamin and Verena took our four-year-old horse Mighty and Mose and Susan took our three-year-old horse Rex. All the horses did a good job with the rolling country roads. Dustin came to get Loretta. Timothy, Elizabeth, and Abigail had the farthest with thirteen and one-half miles from their house to Dustin's.
The hog roast was in honor of Dustin and his dad's October birthdays. The hog began roasting in the early morning hours. The meat was very delicious and seasoned just right. Lots of other food was served along with the pork. It was a nice, sunny, and warm day to sit outside and watch the food being prepared. We headed for home towards evening and spent the evening over at Mose and Susan's (in the pole building). Nobody was hungry for supper so we enjoyed popcorn and apples. We played the game Aggravation which is always exciting. Lovina and Kevin wanted to spend the night at Mose and Susan's even though it's just fifty feet from our house. They have a spare bed and a fold out couch so the children found a place to sleep. Lovina and Kevin say Susan makes the best hot chocolate in the mornings. Lovina said it's so cozy over at Mose and Susan's.
Yesterday daughter Elizabeth and baby Abigail came here for the day. And of course the dogs Crystal and Izzy had to come along. Abigail is used to the dogs when they bark.
We all had fun holding Abigail. She is five and one-half weeks old and starting to coo and make such cute facial expressions. After a day at Grandma's house she is probably glad to rest and get away from all the attention.
Sister Susan is planning a big surprise happy 50th birthday party for sister Verena this Saturday at the community building. Her birthday was August 22. More on that next week.
A happy birthday goes out to son-in-law Timothy. His birthday was October 18.
Try this recipe that a reader shared with me from Peru, Indiana. God's blessings!
German Sausage Chowder
1/2 pound smoked sausage, chopped
2 cups chopped potatoes
1/2 cup chopped onion
2 carrots, chopped
4 celery ribs, chopped
2 cups water
4 cups shredded cabbage
salt and pepper to taste
3 cups milk (divided)
3 tablespoons flour
1 cup shredded Swiss cheese
parsley (optional)
Combine first five ingredients with water and cook until nearly tender. Add cabbage and cook until tender. Stir in 2 1/2 cups milk. Blend 1/2 cup milk with flour. Stir into soup. Cook and stir until thickened. Stir in cheese. Enjoy!
Lovina Eicher is an Old Order Amish writer, cook, wife and mother of eight. Formerly writing as The Amish Cook, Eicher inherited that column from her mother, Elizabeth Coblentz, who wrote from 1991 to 2002. Readers can contact Eicher at PO Box 1689, South Holland, IL 60473 (please include a self-addressed stamped envelope for a reply) or at LovinasAmishKitchen@MennoMedia.org.