Diary of May 10, 2017
7:00 a.m. Lovina and Kevin leave for school with the bus. Joseph bikes to school because he can be home 45 minutes longer. With the chores he does, biking doesn't make him so rushed. School is only three miles from here so it doesn't take him long.
7:30 a.m. I made grilled cheese sandwiches for my sisters Verena, Susan (staying with us after their house fire), and son Joseph, for their breakfast. Verena and Susan leave for work.
7:45 a.m. Joseph bikes to school. Daughter Verena doesn't have to work today so I let her and Loretta sleep in until everyone else is gone for the day. They get the job of washing the dishes and cleaning up the house. Verena cleans some windows. She makes scrambled eggs and toast for herself, Loretta, and me. I can relax better by sitting down and eating breakfast after everyone else has left.
9:00 a.m. I start sewing on Susan's dress, cape, and apron. I had a late start. Had to do some book work first, answer some mail, pay some bills, and now I can feel relaxed to sew.
1:30 p.m. So much for being relaxed. Verena looked out and saw our horses all out in the yard, happily eating grass. We have quite a few horses so they need to be caught and put back inside the fence. Usually one of them is a troublemaker and takes off running away. I caught our pony Stormy, and two-year-old Beauty that the boys are training to drive. The rest took off. Verena almost caught Tough Boy (Mose and Susan's pony) but he decided to pull away and join the rest! I knew Verena, Loretta, and I wouldn't be able to get them all in when they took off down the road and back behind our neighbor's field. I called the school and asked them to send Joseph home to help. Our neighbor Joe drove his four-wheeler to go herd them back up while Joseph, the girls, and I tried to help chase them in through the gate. What a relief when the last one was inside. We have five horses and two ponies, and Mose and Susan have one horse and one pony. So all together there were nine head of horses. We chained the gate and were trying to figure out how they opened it. Then we saw our miniature pony Prancer go up and take the chain in his mouth and wiggle it back and forth. Joseph tied a rope to secure it better.
2:45 p.m. It was too late for Joseph to go back to school so he took our mower over to my sisters' place and mowed their grass for them.
3:00 p.m. Lovina and Kevin came home from school on the bus. I am finally finished with daughter Susan's dress, cape, and apron. She was happy to see it done when she came home from work.
4:00 p.m. Verena and I leave for town as I need some groceries.
6:00 p.m. We are back. Chores are done and the boys are out in the field line-driving Beauty. Beauty will be Benjamin's horse once she's trained. She will be his eighteenth birthday gift from us.
7:00 p.m. My sisters Verena and Susan are home from their jobs. They had extra cleaning to do so they worked later than normal.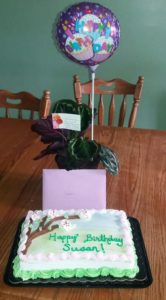 7:30 p.m. We are having pizza, ice cream, and a cake for my sister Susan's birthday. She was surprised when she came home to see the cake, flower, and balloons we had for her. Loretta's friend Dustin, Mose, and daughter Susan joined us for supper.
9:30 p.m. Everyone is ready for bed. Dustin, Mose, and Susan left. Now I sit here trying to stay awake and write this column. I feel sorry for the editor that gets to edit the column this week. My writing is showing exactly how tired I am.
We were glad to meet with column readers at Dorothy's Hallmark Bookstore in Warsaw, Ind., last Saturday. I heard so much encouragement. May God bless you all! And thanks to Dorothy and staff for once again treating us so well. And also to Ruth Boss furnishing transportation and support!
Asparagus Hot Dish
1/2 cup butter
1 cup colby cheese, cubed
4 cups soft bread, cubed
1 cup asparagus, cooked
2 cups chicken meat, diced
1 can cream of chicken soup
1/2 cup milk
Melt butter. Pour over cubed cheese and bread cubes. Put half of mixture in the bottom of a casserole dish. Put drained asparagus on top of bread mixture and chicken on top of asparagus. Mix can of soup with milk and pour over chicken. Add remaining bread mixture on top. Bake at 350 degrees for one hour. Do not cover.
Lovina Eicher is an Old Order Amish writer, cook, wife and mother of eight. She is the co-author of three cookbooks; her new cookbook, The Essential Amish Kitchen, is available from 800-245-7894. Readers can write to Eicher at PO Box 1689, South Holland, IL 60473 (please include a self-addressed stamped envelope for a reply) or at LovinasAmishKitchen@MennoMedia.org.