Children spreading wings as Lovina plans for Ascension Day gatherings
It's Wednesday evening and the house is really quiet tonight. My husband Joe, daughter Verena, and I are the only ones here.
Daughter Loretta left this afternoon with Dustin and his family to travel to Ohio. Dustin's cousin is getting married tomorrow. Dustin and Loretta will be servers at the wedding. I actually just finished sewing Dustin's shirt for the wedding this afternoon and finished it a little before they left. That was cutting it a little too close. Dustin's shirt is cream-colored, worn with a vest. Loretta's dress is a periwinkle blue. I had Loretta's dress, cape, and apron sewn already last week.
Nephew Henry also went to this wedding. They should all be back home by Friday evening. Henry and Dustin are cousins as their dads are brothers, so the groom is a cousin to both of them.
Our children Benjamin, Joseph, Kevin, and Lovina went to sister Emma and Jacob's house this evening and I think they were going to go over to Mose and Susan's house too.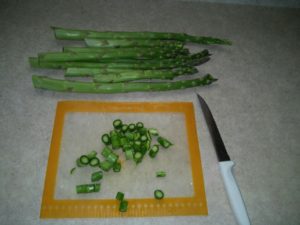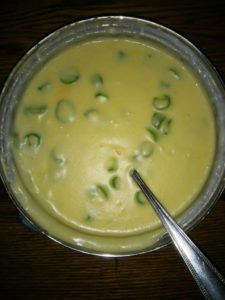 We are having a thunder storm. Joe brought in asparagus so I'm going to make creamed asparagus for supper.
I made four rhubarb custard pies tonight. Tomorrow is Ascension Day and also sister Susan's birthday (May 10). This community has Fast and Prayer Day until lunch on Ascension Day in honor of Jesus Christ's ascension into heaven.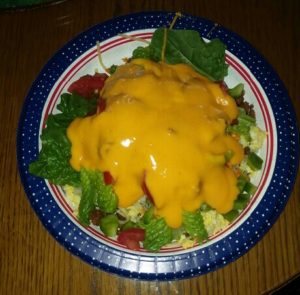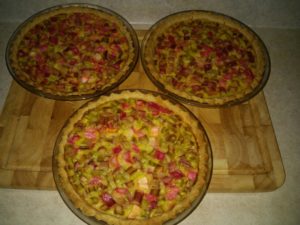 Sister Susan invited us to their house for lunch tomorrow. She will have a "haystack" meal for us. I made the rhubarb custard pie to take there. Jacob and Emma and family, Timothy and Elizabeth, and Mose and Susan will all go too.
Sunday evening we went to Timothy and Elizabeth's house for a hot dog roast, and then we made smores. It was a nice relaxing evening to sit out by the fire. We also played Dutch Blitz. I haven't played that card game too often so I was kind of slow at the fast moving game. We played in teams then and Joe was my partner so we started winning the game.
We recently visited sister-in-law Nancy and family. Brother Amos has been gone three-and-one-half months now and is still so greatly missed. Her daughters Marlene and Lovina were home for the day. And Lisa and Laura still live there so we could visit with all of them. Sam is now done with his school years. He does a good job of keeping up with the chores around there. It just doesn't seem right to go there and not see Amos around. God makes no mistakes!
We also stopped to visit with sister Leah and Paul before heading back to Michigan. They are adding on to their house. It will be very nice once it's done, with some more room when they host church services.
Saturday, May 12, is nephew Benjamin's (son of Jacob and sister Emma) 16th birthday, as well as being Mother's Day!
A great thank you to the readers that came to see us at the book signing in Warsaw, Indiana, last Saturday. Little Abigail enjoyed chattering with everyone even though people weren't always sure what she was saying. We appreciated the hospitality from Dorothy and staff. Like always, we were treated really well.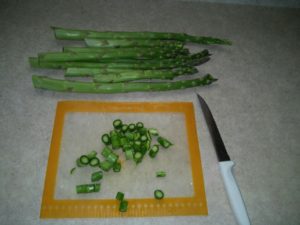 I will share an asparagus recipe this week since it's in season. I like trying new ways to use it.
God's blessings to all!
Asparagus Shepherd's Pie
6 medium potatoes, diced
1–2 pounds hamburger
1 large onion, chopped
2 cloves garlic, minced
1 (10.5 ounce) can cream soup
1 pound fresh asparagus, cut in pieces
1/2 cup milk
1/4 cup butter
3/4 teaspoon salt
1/2–1 cup mozzarella or cheddar cheese, shredded
Cook potatoes until tender. Brown hamburger with onion and garlic; drain off grease. Add soup and pour into a greased 2-quart baking dish. Cook asparagus in small amount of water 3–4 minutes until crisp and tender. Drain and place over beef mixture. Mash the potatoes adding milk, butter, and salt; spread over asparagus. Sprinkle with cheese. Bake uncovered at 350 degrees for 20 minutes.
Lovina's Amish Kitchen is written by Lovina Eicher, Old Order Amish writer, cook, wife and mother of eight. She is the co-author of three cookbooks; her newest cookbook, The Essential Amish Cookbook, is available from 800-245-7894. Readers can write to Eicher at PO Box 1689, South Holland, IL 60473 (please include a self-addressed stamped envelope for a reply) or at LovinasAmishKitchen@MennoMedia.org.