Wednesday evening—everyone is taking it easy tonight. Mose, daughters Susan and Verena, and son Benjamin went fishing . We put in a long day so it was relaxing to them to go take the boat on the lake. The rest of us are outside around a campfire. It is so peaceful out here. We had a nice day to do laundry. It was extra big since we just arrived home from our trip last night around 7:30 p.m.
We left at 6:00 a.m. Saturday morning with our whole family. We headed north to Hersey, Michigan, to Joe's sister Christine and husband Jake for a family gathering. Seven out of twelve siblings were there. People came from Tennessee, Ohio, Indiana, and Michigan. We were served a delicious dinner. On the menu were mashed potatoes and gravy, buttered peas, green beans, barbequed chicken, several different varieties of cheese, pie (cherry, pecan, and apple), and ice cream. Everyone brought snacks for the afternoon. A lot of the families went Friday already. Before we prayed to eat, we sang four songs together. Tables were set up in the basement so there was enough room to sit. I don't have an accurate count but I think there were around 70 people that could attend.
Some played volleyball and other games, while others just visited.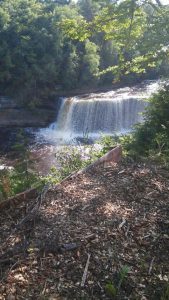 We left around 3:15 p.m. to drive another three plus hours. We stayed at a motel across the Mackinac Bridge. We drove on up to see the Soo Locks and then the Upper and Lower Tahquamenon Falls. What a sight to see! All such wonders of God's artistic touch. How relaxing it was to hear the water running. We rented row boats so we could get closer to the falls and also walked around some in the water.
We also stopped at Deer Ranch, Mystery Spot, and Garlyn Zoo. We watched the fireworks from the front lawn of the motel on the fourth of July. And before we started for home we went parasailing. But I just stayed on the boat and watched the others. The rope for the parachute goes out 300 feet. It was an exciting adventure for the ones that went up. My husband Joe and son Kevin went up together. Kevin looked a little scared at first, but still enjoyed the ride.
It is always nice to take a break from work and get away for a while. I was ready to get back home. There's no place like home even though coming home meant resuming work. Joe, Susan, and Benjamin are all off work this week for the July 4 vacation week. Susan's wedding is just four weeks away so we need to get everything done that we can.
Daughter Elizabeth has been a great help to me with getting the sewing done for the wedding. We have to cut out and sew pants for Kevin yet, and I need to sew my own dress. It's cut out and my goal is to get that sewn next week, but I'm behind on my goals a lot lately.
Daughter Loretta is sixteen now and can join the youth group. It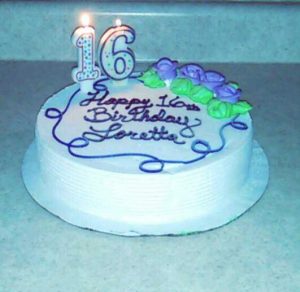 seems empty when they leave for the community building to gather with the youth on Saturday evenings. The three youngest children are the only ones home with Joe and I.
Mose, Susan, Verena, and Benjamin are back from fishing now. They didn't catch any but had a relaxing time on the lake.
Corn detasseling has started in this area. Son Joseph isn't old enough to sign up for it yet. They have to be fourteen years old to go now. It used to be thirteen when Elizabeth, Susan, and Verena went. The humidity is really high so I can imagine the hot days they will have walking those corn fields.
Jacob (sister Emma's husband) and sons did our chores for us while we were gone. We really appreciated that. I know it had to take extra time to come over twice a day to milk our cow Bessie and do the other chores. A big thank-you to them! Hopefully we can return the favor sometime.
God's blessings to all!
Thunder Cake
1 cup shortening
1 3/4 cups sugar
1 cup cold water
1 teaspoon vanilla
1/3 cup tomato purée
3 eggs, separated
2 1/2 cups flour
1 1/2 teaspoons soda
1/2 cup cocoa
1 teaspoon salt
Cream together (adding one at a time) shortening, sugar, vanilla, water, and tomato purée. Blend in egg yolks. Beat egg whites until stiff then fold into shortening mixture. Into a medium bowl sift flour, soda, cocoa, and salt then mix into creamy mixture. Bake at 350 degrees for 35 to 40 minutes in 2 greased and floured 8 1/2-inch round pans.
Lovina Eicher is an Old Order Amish writer, cook, wife and mother of eight. Formerly writing as The Amish Cook, Eicher inherited that column from her mother, Elizabeth Coblentz, who wrote from 1991 to 2002. Readers can contact Eicher at PO Box 1689, South Holland, IL 60473 (please include a self-addressed stamped envelope for a reply) or at LovinasAmishKitchen@MennoMedia.org.