Today is granddaughter Andrea's (Tim and Elizabeth's) first birthday. Friday evening, we will go to Tim and Elizabeth's for supper in honor of her birthday. She has the biggest eyes and the sweetest smile.
Tim came tonight to pick up their lard press which we used last Saturday when we butchered pigs. He brought along grandson T.J., four, and granddaughter Allison, three, but both had fallen asleep on the way over. Grandma didn't get to enjoy them, but I put a baggie of candy in their hands, so they would know they were here when they woke up.
Saturday, we butchered two pigs. One was for us, and one was for Dustin and Loretta.
It's a long day, but always enjoyable to all be together working.
First, the pigs are dressed, and then the big black kettles are set up to start heating water to cook the meat off the bones. The hams, tenderloins, bacon, and ribs are cut out, and the rest is cut out for sausage. The fat from the pigs gets cut into one-inch cubes for rendering. The liver, brains, heart, tongue, and other parts are all saved from the pigs. Most of our children love the brains fried in butter after being rolled in flour. I have never tasted the brains or tongue. Mom would make pickled tongues, but I am different, I guess. My children say, "Mom, how do you know if you don't like something if you never tasted it?" Anyways the brains aren't that much in quantity and usually have to be portioned, so they all get a taste. Daughter Lovina said that she thinks the brains taste better than any meat she's ever had. She most certainly doesn't take after her namesake (me) on that subject. Haha!
The lard gets rendered in one kettle, and the bones are cooked in the other. Then, when the meat comes off the bones, it is brought inside, where the meat is picked off the bones. It is then put through the grinder. We would make liver pudding with most of this meat years ago. Since we don't have many in the family that like liver pudding, we always put this meat in the pon hoss. It makes the pon hoss taste even better.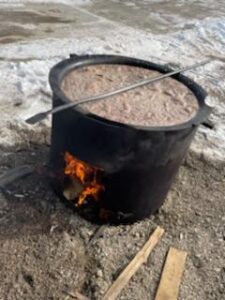 The broth from the bones is strained, measured, and put back in the kettle; then, the meat and seasonings are added. We usually put in two tablespoons of salt and one tablespoon of black pepper for each gallon of juice. Next, the flour is sifted in the broth, which should be boiling hard. Someone needs to be constantly stirring. The men usually take turns. We add around four cups of flour per gallon of broth. So this year, we made 23 gallons of broth into pon hoss, which would take around 92 cups of flour. I was a little short in flour, and the pon hoss was a little harder to fry, but we actually like it almost better this way. When the pon hoss no longer sticks to a metal dipper, then it's ready to come off the fire. It is then poured into pans. I use 9 x 13 foil pans, and each pan holds around a gallon of pon hoss.
Once the pon hoss is cooled, it can be sliced and fried on each side until crisp. I like mine very crisp, but some in the family want it softer. It is kind of like frying bacon: Some like it crispier than others.
The sausage is ground, packaged, and put in the freezer. We canned a few quarts for Dustin and Loretta. I still had plenty canned.
The "fischlie" (a Swiss word), the backstrap, is a small tenderloin that is just under the spine at the rear end of the body cavity. For as long as I can remember, this was the meat fried on butchering day.
So along with that, on the menu we had mashed potatoes, gravy, corn, cheese, grape tomatoes, ice cream, and a variety of bars and applesauce.
After everything was done, all the big dishes, grinders, and slicers were cleaned.
Joe sliced all the hams, pork chops, and ribs, and those were bagged and put in the freezer. The shoulders are put in the freezer whole. Joe will cut those into pork steak with the meat saw. He likes them frozen to cut. The bacon is soaked in a brine that Dustin made. It will soak for a week and then be sliced too.
Another year of pork meat in the freezer. We still need to butcher beef yet this winter. Are we thankful enough to have plenty to eat and preserve? God is good! God's blessings to all!
Breakfast Quiche
1 pound precooked ham, sausage, or bacon or a combination of meats
8 ounces grated cheese
8 eggs
3/4 cup flour
4 tablespoons butter
3 cups milk
1 teaspoon salt
In a greased 9 x 13-inch pan, make a layer of meat and top with cheese. Combine the rest of the ingredients in a blender and pour over the meat and cheese. Bake at 350 degrees for 35-45 minutes or till set in the middle.
Lovina's Amish Kitchen is written by Lovina Eicher, Old Order Amish writer, cook, wife, and mother of eight. Her newest cookbook, Amish Family Recipes, is available wherever books are sold.  Because Lovina is Old Order Amish, she does not have email or a telephone in her home. Lovina does not respond to comments on this website, if you would like to contact her directly, click here.