Sister Verena's forty-eighth birthday was Friday, August 22. She recently had our family and Jacob, Emma and their family there in honor of her birthday. We enjoyed a pizza dinner. Sister Susan made a cake for Verena but then surprised her with an ice cream cake from Dairy Queen.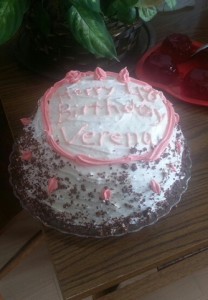 It has been over a week now since son Joseph's surgeries. He seems weak yet, but he is getting better every day. We thank God for his many blessings!
This past week we were busy canning and freezing sweet corn. We have a total of 41 quarts so far. My tomatoes are also producing really well.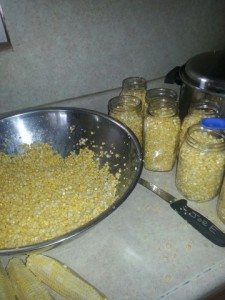 Sister Emma and Jacob will host baptismal services for a boy and girl in our church district in a few weeks. I was finally able to help her for a day last week. With Joseph not feeling well last week, it was hard for me to leave.
Joe's sister Christine and her husband, Jake, and their family let us know that they would be at the church services at niece Verena and Melvin's house. We were unable to go, as Joseph was still not able to stay up that long. We were sorry we didn't get to see them. They live in a small community two and a half hours north of here.
We had surprise visitors Sunday evening. Joe's sister Carol, Pete, and seven children came after supper. It was a hot evening so we all sat outside on our porch. The girls made popcorn and lemonade. Their family is planning to move to Tennessee, so we will not get to see them as often.
School doors will open next week for our four youngest children. Half of our children are done with their school years. Unbelievable! This is Loretta's final year. She will be in eighth grade. Joseph, 12, will be in sixth grade; Lovina, 10, will be in fourth grade; and Kevin will be in third grade.
The first day of school, September 2, is Kevin's ninth birthday. Kevin likes it better when I tell people that he is my youngest child than when I say he is my "baby." He has grown up so much, but for some reason we don't like to see time go so fast.
One evening this week the boys and Lovina decided to build a top to cover our little wagon. They were hammering away in the pole barn. Finally they pulled it out so we could see. I think the wagon will be a little top-heavy, but I was amazed at their ambition and success. They were creative and had fun doing it. I'm not so sure if Joe appreciated his tools being scattered around, and I told Joseph he wasn't allowed to be pounding nails because of his surgery. Something tells me he didn't listen after I was out of sight. Once children start to feel better after being sick, it's hard to keep them quiet! Joseph told me he wants to be a carpenter when he gets older. He said it is fun using a hammer.
This week I will share my caramel cake recipe. I have had quite a few requests for it since I wrote about my sister Susan bringing one along when we went camping. Until next week—God bless!
Caramel Cake
 Cake:
1 box white cake mix
½ cup bread flour
¼ cup vegetable oil
⅔ cup water
2 eggs
Set aside 1 cup cake mix for topping. Combine remaining cake mix, flour, oil, water and eggs. Beat well and then pour batter into a 9×13 cake pan.
Topping:
1 cup reserved cake mix
1 cup brown sugar
¾ cup nuts
¼ cup butter or margarine
Mix until crumbly. Sprinkle topping on cake and cut through batter with a knife to create a marble effect. Bake at 350° for 30 minutes or until done.
Glaze:
1 cup powdered sugar
1 tablespoon corn syrup
1 tablespoon water
Mix together and drizzle over cake when done.
Lovina Eicher is an Old Order Amish writer, cook, wife and mother of eight. Formerly writing as The Amish Cook, Eicher inherited that column from her mother, Elizabeth Coblentz, who wrote from 1991 to 2002. Readers can contact Eicher at PO Box 1689, South Holland, IL 60473 (please include a self-addressed stamped envelope for a reply) or at Editor@LovinasAmishKitchen.com.