My husband, Joe, returned to his job at the RV factory after being on vacation for a little over a week. Daughters Elizabeth, 20, and Susan, 18, are home a few more days before they will return to their jobs at the RV factory where they work.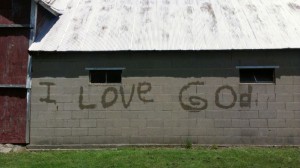 We had an enjoyable vacation, but it went way too fast. A lot of fishing was done, but we also accomplished a lot of work. Joe and sons Benjamin, 14, and Joseph, 11, put a new metal roof on the back of our barn. The roof had been leaking. It's where we keep the chickens and calves, so it will sure be a lot better to not have a leak in the roof.
We put up almost 800 bales of hay in our barn over this past week. Hay is still expensive, and farmers are having a hard time getting their hay in between the rains. The rains are helping things grow and gardens are doing well.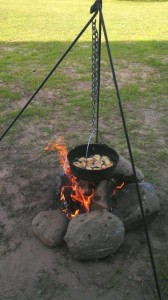 One evening we went camping with my sister Emma and her husband, Jacob, and their family and my sisters Verena and Susan. We cooked supper out on the open fire with Joe's new tripod and kettle. We deep-fried fish and had lot of food, with everyone bringing something. The children loved sleeping in tents. We cooked breakfast outside on the fire. Our menu was sausage gravy, scrambled eggs, fried potatoes, sliced Swiss and Colby cheese, hot peppers, sliced tomatoes, watermelon, muskmelon, caramel cake, pudding, coffee, milk and orange juice.
Today we are washing laundry, and it turned out to be a beautiful day for drying clothes. We had a thunderstorm during the night and some more rain.
Son Benjamin is helping Susan's friend Mose at his sawmill for a couple days. It seems quiet without Benjamin home. He does so many jobs for me when Joe is working.
Joseph, Lovina and Kevin are cleaning out the chicken coop, which is always a stinky job. But it has to be done. They are also cleaning out another area for our four new pigs, which will come today. We will raise them for meat this winter.
If it's the Lord's will we will have beef, pork and chicken to fill our canning jars and freezers for another year once it turns cold again. How thankful we are for having plenty to eat. It isn't like that everywhere, and we pray that God will provide for the ones less fortunate as well. We need to thank God for our many blessings daily!
How thankful we are for having plenty to eat. We pray that God will provide for the ones less fortunate as well.
The rest of our week will be spent sewing for niece Irene's wedding next week. I will help prepare for the wedding on Monday and be a cook at the wedding on Wednesday. Daughter Elizabeth and her friend Timothy will be tablewaiters at the wedding. Tablewaiters are friends and cousins who are chosen by the bride and the groom to serve food to wedding guests seated at the tables.
I'll share the recipe for batter that I use to deep-fry fish. We also use this for onion rings, zucchini, and other vegetables.
Batter for Deep-Fat Frying
½ cup milk
1 egg
¾ cup flour
½ teaspoon salt (or seasoning of your choice)
Mix together all ingredients and stir until lumps are smooth. Dip fish filets or sliced vegetables in the batter. Drop in hot oil in a deep frying pan or Dutch oven and fry until golden brown.