It is past time for me to get this column on its way. There's so much that should be done, but a person can only do so much. One day at a time!
We did manage to get our windows cleaned on Saturday. It doesn't take long for them to get dirty, especially because of the rainy weather and running the coal stove. We haven't had any heat in the house for several weeks now. On a few of the colder mornings, it would have felt good to have some! The propane lights heat up the house. We use a lot more battery lights on days that we don't need heat.
My husband Joe, our sons and son-in-law Mose have planted some garden. This is the first year I haven't helped plant. I'm not complaining if I don't need to help! But we will still have the big garden to plant, so I'll get my chance. They planted red potatoes, onions, radishes, lettuce and cucumbers. I'm not sure if they have any corn planted yet. I need to go get more seeds so we can finish the planting.
This week I have been busy sewing for the wedding next week. I have Loretta's dress, cape and apron done. I hope to sew Verena's today and hopefully I'll get started on mine. I sewed Benjamin, 17, a pair of dress pants. He also needs work pants.
Laundry needs to be done today, but I am waiting to see what the weather is going to be. It is very windy and the sun comes out a little bit and then it rains a little.
We are enjoying asparagus from our garden. I like to fix it several different ways. Joe reminded me last night that we have rhubarb ready to use. I did get the hint that he's hungry for rhubarb custard pie!
Loretta, 16, and I are alone today. The rest of the family are either at work or at school. Joseph, 14, reminded me this morning that he only has thirty more days of school left. He is in eighth grade, so this will complete his school years. He signed up to help detassel corn this summer. Joseph is tall for his age, so he will find that helpful when he works in the corn fields.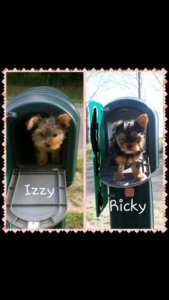 Yesterday daughter Elizabeth and Abigail came for the day. Abigail is getting everywhere on her tummy. She scoots herself around, and so I need to keep my floors clean! Abigail is growing up with Yorkie dogs, so she wasn't scared of Verena's new little Yorkie, Ricky. Ricky is doing great and is doing well with the potty training. He likes to hide from us. His favorite place to hide is under Joe's recliner, where he peeks out at us. Yesterday everyone was looking for him. A few decided to look outside, because he loves to slip out when someone goes through the door. I looked around the living room and bedroom. I happened to look back and he was following me.
We are looking forward to meeting the readers in South Holland, Ill., this Saturday. Our good friend Ruth is once again doing so much for us. Since we live several hours from South Holland, she will come get us Friday evening and then we will stay at her house for the night and go to the book signing on Saturday. Joe, daughters Verena and Lovina and sons Joseph and Kevin are planning to go with me. Loretta and Dustin will go help up set wedding tables on Saturday for his brother Jake's wedding. This will be at Jake's girlfriend's parent's house, which is about one and one-half hours from here. Jake is the first of Dustin's siblings to get married, so this will make a big change for their family.
With all of us leaving, that will put son Benjamin in charge of doing the chores here at home. Mose and Susan will be here to help him.
I'll share Uncle Solomon's horseradish recipe. Joe and I made some to serve with the colored eggs at Easter. Our horseradish plant is really big already.
God bless you all!
Uncle Solomon's Homemade Horseradish

horseradish root
1/2 cup white vinegar
1/2 cup water
1 teaspoon sugar
pinch of salt
Clean and chop horseradish root very fine. Combine vinegar, water, sugar and pinch of salt, adding only enough horseradish to make it the thickness you like. Add more sugar or salt to taste. Store in sealed container and refrigerate or use immediately.
Lovina Eicher is an Old Order Amish writer, cook, wife and mother of eight. She is the co-author of three cookbooks; her new cookbook, The Essential Amish Kitchen, is available from 800-245-7894. Readers can write to Eicher at PO Box 1689, South Holland, IL 60473 (please include a self-addressed stamped envelope for a reply) or at LovinasAmishKitchen@MennoMedia.org.