Such a lovely July morning. My wash and wringer machine is working again now, and it would be a great laundry day but we don't have any hot water. A service man will come out this morning to look at our gas water heater. Hopefully after he gets it going there will still be time to do the laundry. Daughter Lovina, 10, said, "Mom why don't you heat the water on the stove like Aunt Liz does?" We had just visited Liz in Berne, Ind., and Liz does not have indoor plumbing like we do. Lovina had noticed that when we were there and went to wash her hands at the sink, asking, "What happened to their faucets?" We had to laugh. Lovina was born here in Michigan and never knew how life was when we lived without indoor plumbing in Berne.
Last week was full. On Monday, sister Emma and I went to help bake pies for niece Irene's wedding. Tuesday the 15th was Joe and my 21st anniversary and also brother Albert's 50th birthday. Albert has two sons, Albert Jr., 22, and Andrew, 11, that also share his birthday along with a daughter-in-law born that day.
Wednesday was nice and cool for the wedding of Levi Jr.  and Irene. Three hundred pounds of chicken were grilled for the noon meal. Also on the lunch menu: homemade bread, butter, strawberry jam, mashed potatoes, gravy, noodles, dressing, mixed vegetables, lettuce salad, cheese, cheesecake, mixed fruit, along with peach, Bob Andy and peanut butter pies. Candy bars were passed around at the end of each meal for a later snack. The supper menu was the same except there was poor man's steak instead of chicken, and ice cream.
My job was to help make the gravy. For each meal we made five 8-quart kettles of gravy. All the food was prepared in the wedding wagon. The wedding wagon is powered by generators so we have two sinks with hot and cold running water and seven gas stoves. It is so much easier than how we had to get things around for my wedding. The wedding wagon comes with place settings for 350, tables, and a walk-in cooler. Tables were set up in a big building and 350 were seated at one time to eat.
Saturday we traveled to Berne, to attend the Albert and Verena Coblentz (my late grandparents) reunion. Grandpa and Grandma had 13 children. My Dad and his three sisters have passed away and are greatly missed. There are nine brothers living, and we were happy that all nine were able to attend. Relatives gathered from at least six states: Indiana, Michigan, Mississippi, Wisconsin, Missouri, and Arizona.
We had a silent auction at the reunion. It was fun to see who won the bidding at the end of the afternoon. The last time we attended this reunion was 2004 so it was very good to be in attendance again. Sister Emma had her 41st birthday on Saturday so all the Coblentz's sang "Happy Birthday" to her. One of the cousins had decorated a nice Swiss-roll cake with "Coblentz Reunion 2014" written on it. There was so much food that I won't even try to list it. Aunt Frances and Uncle Joe's house and belongings were sold the same day, which I can imagine was sad for their children. I remember the sad feeling when we had to do that. We attended the auction for a while before heading to the reunion. Cousin Jane and Greg bought the house so it's nice that it will stay in the family.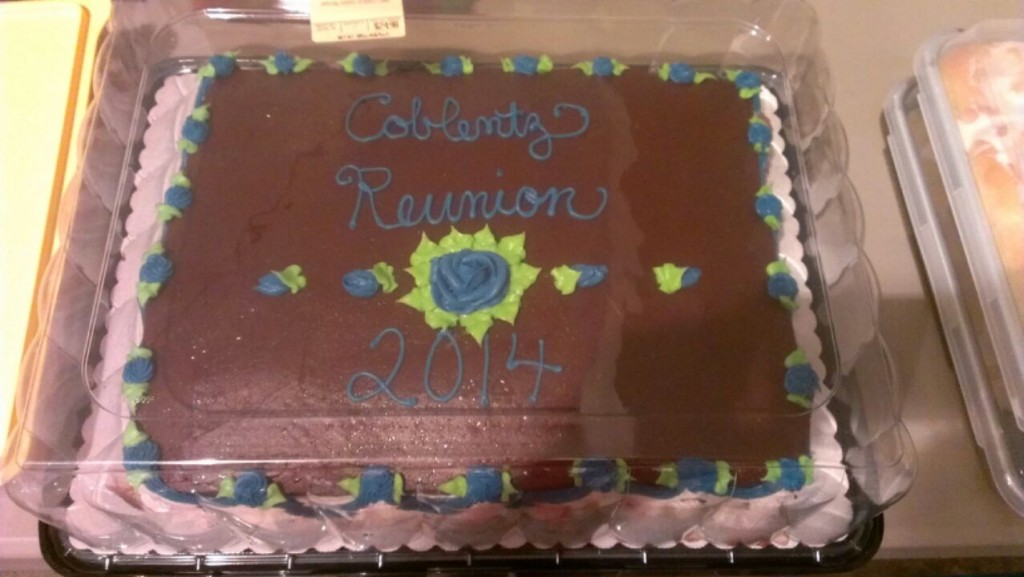 Yesterday we had dinner at sister Emma and Jacob's house. In honor of Emma's birthday we ate pizza, salad, veggies, ice cream, chocolate cake, and strawberry pie.
Try this recipe for zucchini nut muffins. Although my zucchinis aren't quite ready, we are enjoying some from my sisters Verena's and Susan's garden.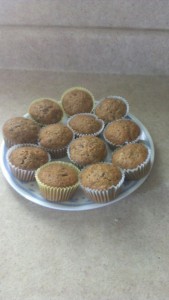 Zucchini Nut Muffins
1½ cups flour
½ teaspoon baking powder
½ teaspoon baking soda
½ teaspoon salt
1 tablespoon cinnamon
1 cup sugar
2 eggs
½ cup vegetable oil
1 cup unpeeled, shredded zucchini
½ teaspoon vanilla
½ cup chopped nuts
Combine flour, baking powder, baking soda, salt, and cinnamon in a large bowl. Set aside. In another large bowl combine sugar and eggs. Beat for 2 minutes. Gradually add oil and keep beating constantly for 2 minutes. Stir in vanilla, zucchini, and nuts, then fold in dry ingredients just until moistened. Spoon into greased muffin cups two-thirds full. Bake at 375° for 20 minutes or until done.
Lovina Eicher is an Old Order Amish writer, cook, wife, and mother of eight. Formerly writing as The Amish Cook, Eicher inherited that column from her mother, Elizabeth Coblentz, who wrote from 1991 to 2002. Readers can contact Eicher at PO Box 1689, South Holland, IL 60473 or at Editor@LovinasAmishKitchen.com.