We are having a lot of rainy days this past week. The garden hasn't dried up enough for us to get in it, so we still haven't been able to plant more vegetables. I am really eager to get more garden planted and by next week it will be time to put out tomato and green pepper plants, etc. I like to wait until the middle of May to put these plants in the garden in case it gets too cold—frost can hurt the tender leaves and plants.
Joe and the children are all hoping for the rain to quit for tonight. They have plans to go fishing with the boat on a nearby lake. Son-in-law Timothy is planning to bring his boat so some can ride with him. I will stay home and enjoy the peace and quiet. Daughter Elizabeth might stay here with me and we'll enjoy visiting. I want to make supper early before they go. Fish and French fries will be on the menu. Friday evening my husband Joe, son Joseph, and Timothy took the boat out on the lake. They came back with over fifty fish; mostly bluegills. When I prepare the fish I dip them in a batter and deep fry them. Some like to eat them as a sandwich with bread and mayonnaise.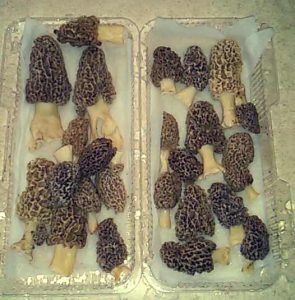 This week we also had fresh mushrooms and I also dip and fry those. At the local consignment auction on Saturday they sold some mushrooms that a local Amish lady found. It was to help benefit nephew Emanul and Mary Kay with their hospital bills. Joe bid for the mushrooms as he loves fresh morel mushrooms (that grow in wooded areas but are hard to find) and he also was able to do a good deed this way. Needless to say, the mushrooms did not last long.
At the auction we bought a three-year-old horse. So far we are really happy with him. He has one thing he doesn't like and that is water puddles along the road. He doesn't do more than shy away from the water, but for three years old, I think he is doing really well. We had the whole family choosing names and settled on Rex. Rex is very well behaved and friendly with the other horses out in the pasture.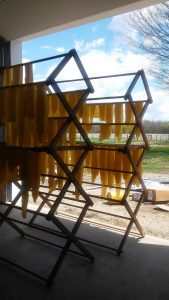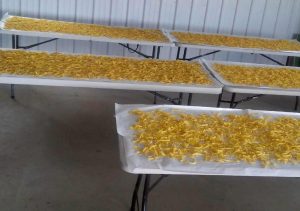 Yesterday, sisters Verena and Susan, daughters Elizabeth, Verena and Loretta, and I assisted sister Emma with her work preparing for church at her house. We washed laundry and made six batches of noodles with around twelve and one-half dozen eggs (that's 150 eggs!). Emma needs the noodles for Sunday lunch. We will have Rule Church and it usually lasts until 2:00 p.m. A lunch will be served and a few dozen people will go to eat at one time so the services continue on. On the menu will be chicken noodle soup. I took my noodle maker (to cut the noodles) along and we also used Emma's. It made the project go faster. Emma now has five six- and eight-foot tables of noodles drying. After they are dried for a week, they can be stored in air tight containers. I am sure it will take quite a few pounds on Sunday.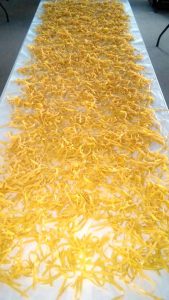 Tomorrow is Ascension Day [May 5] and the Amish in our community honor this day with fasting and praying until lunch time. Jacob and Emma and family, sisters Verena and Susan, Timothy and Elizabeth, and the girl's friends will all come for lunch. Joe plans to grill venison steaks on the charcoal grill. He likes to use the charcoal grill and leaves the gas grill for me. He says the flavor of the meat is better and I think so too, but I go for what is easier. I will prepare the rest of the meal in the house. Everyone is bringing a dish so it will be simple.
Happy Mother's Day to all you readers who are mothers! A mother thinks about her children day and night. Even when they are not with her. We love them in a way they will never understand until they become a mother.
I will share the recipe for M&M chocolate chip bars daughter Verena made. If you need a lot of bars these will be good to make and very easy.
God bless!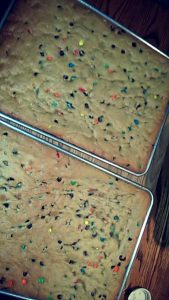 M&M Chocolate Chip Bars
1 cup butter, softened
1 1/2 cups sugar
1 1/2 cups brown sugar
2 teaspoons vanilla
1 teaspoon water
5 eggs
2 teaspoons soda
2 teaspoons salt
5 cups flour
1 cup chocolate chips
1 cup M&M's
Cream together butter and sugars. Add vanilla, water, and eggs. Beat well. Stir together flour, soda, and salt. Add to batter and mix well. Stir in chips and M&M's. (Variation: just use all chocolate chips.) Put on 1 or 2 large cookie sheets (with edges) and bake at 350 degrees for 25 to 30 minutes.
Lovina Eicher is an Old Order Amish writer, cook, wife and mother of eight. Formerly writing as The Amish Cook, Eicher inherited that column from her mother, Elizabeth Coblentz, who wrote from 1991 to 2002. Readers can contact Eicher at PO Box 1689, South Holland, IL 60473 (please include a self-addressed stamped envelope for a reply) or at LovinasAmishKitchen@MennoMedia.org.