Church services are set to be here August 27. We are still busy with all the preparation it takes to host the services. I know that we could still have the services without cleaning, but this is one way to have a deadline every year to give your house a thorough cleaning.
My sisters Verena, Susan, and Emma and sons Jacob and Steven assisted us with our work one day this week. A lot was accomplished! Tomato juice and pickles were canned. The kitchen walls and ceiling were washed off. Some more windows were cleaned and more cabinets washed out. It's nice to have a big house but it takes a lot to clean it too.
Since daughter Susan and Mose have their living quarters on one side of the "new" pole barn, we will use the other part where Joe keeps all his tools, etc. for the church services. That part has all been cleaned and washed out. The garden and flower beds need some weeding done.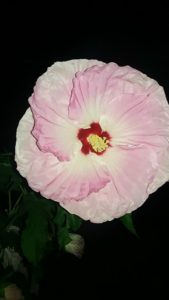 Sister Emma is making plenty of tea concentrate so we can have iced tea with the church meal. I have twenty loaves of wheat and 20 loaves of white bread coming in for the after-church meal. The bread and cookies are made and brought by women from our church.
I have two bushels of peaches that we have to go pick up today. Those will need to be canned and frozen. Daughter Elizabeth and her little Abigail have plans to come today. Abigail will push a toy on wheels and walk but still not walk alone. She also stands alone when she's not thinking that she's doing it!
I was holding Abigail in church Sunday, held under a tent. Abigail is at the age where she doesn't want to be held or stay quiet for that long. She wanted to get down and play on the grass. She would throw a toy on the floor so she could get down to pick it up. After several times I figured out that she was tricking me into letting her loose to crawl around. But I cherish these moments I spend with her. She took a turn sitting with Grandpa (husband Joe). Needless to say, she keeps us going.
Congratulations go to our neighbor girl, Mary and her husband-to-be, LaVern. They were published to be married on September 22. I have been asked to help cook at the wedding and so is daughter Susan. We are both to wear the color sage. We are glad we both have this color so no sewing needed for this wedding.
Also published on Sunday were Clint and Hannah so congratulations go out to them as well. Clint and Hannah chose October 5 for their wedding date. Clint is a brother to Dustin (daughter Loretta's special friend). Loretta needs a new dress for this wedding. I was asked to help cook at this wedding also and need to wear the color Marine Blue. I think I have a dress very close to this color to wear.
Daughter Verena also has part in a wedding on September 9 and needs a new dress sewn before then. I also want to sew a new dress, cape and apron for Verena's baptism service which will be held here at the second church service we host on September 10, Lord willing. September 10 is also Abigail's first birthday.
School doors open next week already. This is the first year since we live here in Michigan that school starts before Labor Day. Son Kevin (almost 12) will be in sixth grade and the only one going to school. Daughter Lovina wants to be homeschooled for her seventh and eighth grade years. We plan to go pick up her school books tomorrow. I have to get my "thinker" going again to teach her. I homeschooled daughter Elizabeth for her last two years and daughter Susan on her eighth grade year.
God bless you!
Vegetable Bars
Crust:
2 cups flour
1 tablespoon sugar
1 teaspoon salt
1 teaspoon baking powder
1/2 cup shortening
3/4 cup milk
Topping:
8 ounces cream cheese
1 package Hidden Valley Ranch Dressing Mix
3/4 cup sour cream
3/4 cup salad dressing
Vegetable and other toppers:
Summer vegetables such as diced or chopped peppers, cauliflower, broccoli, tomatoes
1 large package shredded cheese
6 slices fried bacon, drained and crumbled
Mix the crust ingredients and spread on cookie sheet. Bake at 400 degrees for 10 minutes. Let cool.
Mix the topping ingredients and spread over the crust.
Top with diced peppers, cauliflower, broccoli, and tomatoes; 1 large package shredded cheese; and bacon. Press down into cream cheese mixture. Yields: 1 cookie sheet. Cut in bars to serve.
Lovina Eicher is an Old Order Amish writer, cook, wife and mother of eight. She is the co-author of three cookbooks; her new cookbook, The Essential Amish Cookbook, is available from 800-245-7894. Readers can write to Eicher at PO Box 1689, South Holland, IL 60473 (please include a self-addressed stamped envelope for a reply) or at LovinasAmishKitchen@MennoMedia.org.