A day in Lovina's Life: Diary of September 20, 2017
3:00 a.m. Alarm rings telling us it's time to start another day. Mornings come around too quick. I pack Joe's lunch and put on a pot of coffee so he can take some to drink on his way to work.
3:45 a.m. Joe and son-in-law Mose leave for the RV factory. I go back to bed and set the alarm for 4:45 a.m. I hear nephew Henry, 20, leaving every morning around 4:15 a.m. to go to work. He does really well to always hear his alarm and get ready for work.
4:45 a.m. I pack lunches for sons Benjamin, 18, and Joseph, 15. They will go help nephew Noah today on his construction job. The boys go do the morning chores while I make them a breakfast sandwich consisting of egg, ham, cheese, and toast. I wrap it in aluminum foil to keep it warm. Sometimes they eat their breakfast here and sometimes on their way to work.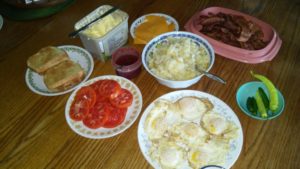 5:15 a.m. The boys leave for work. I get a cup of coffee and relax in my recliner until it's time to get Kevin, 12, up for the bus. How different it seems from when I had five or six children to send on the bus by 7:00 a.m. Kevin makes his own breakfast and when he packs his lunch I help with that. I usually wake Kevin up around 6:15 a.m.
7:00 a.m. The bus is here and Kevin leaves for school. Lovina, 13, gets up to get ready to start her school work here at home. Daughter Susan and I are getting ready to leave today. Susan harnesses our pony Stormy up and hitches him to the pony buggy. Susan and I are going to help bake pies, etc., at our neighbors for their daughter's wedding which is Friday. Susan and I are both cooks at the wedding.
Daughters Verena, 19, and Loretta, 17, will be here today with Lovina while we leave. Verena helps tutor Lovina on days I can't. She grades her work for me and gives her the spelling tests. So far it's really going well and Lovina understands the work well.
8:15 a.m.  Susan and I are ready to leave. We go pick up my sisters Verena and Susan as they were asked to help also and to be cooks at the wedding Friday.
12:30 p.m. Susan and I are back home from helping the neighbors. I helped with the pecan pies and making crusts for the peanut butter pies. Tomorrow they will make the cherry pies. We were done early with all the jobs that were assigned to us.
1:00 p.m. Susan and I are ready to leave to go get groceries for Sunday. Mose and Susan will host church services here on Sunday. It will be Rule Church (preparation for communion services) so services will go until mid-afternoon. We serve lunch during the services to two tables at a time while the services keep on going. Usually chicken noodle soup is on the menu with the regular church lunch.
4:30 p.m. Susan and I are back home. Benjamin and Joseph are back home. With everyone's help the groceries are carried inside and put away.
Joe, Henry and Kevin are all home as well. Mose went to his parent's house to help his dad set up their tree stands. Everyone is getting prepared for the upcoming deer season.
6:30 p.m. Dustin comes for supper or rather ends up making supper for all of us! We have supper outside on the porch. Dustin has the deep fryer going (propane). He makes French fries, jalapeño poppers (jalapeños with cream cheese inside and breaded), breaded mushroom,s and breaded mozzarella sticks. It's a different kind of supper for us but easy to do and out of the house on this hot day. Temperatures are hitting the 80's and it takes some getting used to after all the cool days we had.
7:00 p.m. Mose is back home and joins us for supper.
10:30 p.m. Finally everyone is settled for the night. Dustin left and it's past our bedtime. It was a nice evening sitting on the porch.
One additional note: We had around 80 people here for the family gathering last Saturday. Quite a few of the nieces and nephews couldn't attend. Joe and Mose grilled 100 pounds of chicken starting at 3:30 a.m. We had lots of food with everyone bringing a dish or two.
God's blessings!
Pizza Casserole
1 pound sausage
1/3 cup onions, chopped
½ cup green bell peppers, diced
1 (4-ounce) can sliced mushrooms, drained
½ teaspoon salt
8 ounces rotini pasta, cooked
2 (10-ounce) cans pizza sauce, or equivalent amount homemade sauce
2 cups mozzarella cheese, shredded
15–18 slices pepperoni (optional)
Brown the sausage, onion, and bell peppers in a skillet. Drain grease. Add the mushrooms and salt, then spoon into a greased 9 x 13-inch baking dish. Cover with cooked rotini. Pour sauce over top and sprinkle with cheese. If desired, arrange pepperoni on top of the cheese.
Bake at 350°F for 30 minutes, or until cheese has melted and casserole is bubbling.
Note: This recipe can be made a day ahead; add 15 minutes to baking time if casserole has been refrigerated.
This recipe is from Lovina's newest cookbook, The Essential Amish Cookbook. (Herald Press, 2017) If you love her cookbook, consider writing a review on Amazon. There are over 25 reviews and almost all rank them 4 or higher (on a scale of 1-5 stars)!
Lovina Eicher is an Old Order Amish writer, cook, wife and mother of eight. She is the co-author of three cookbooks; her new cookbook, The Essential Amish Cookbook, is available from 800-245-7894. Readers can write to Eicher at PO Box 1689, South Holland, IL 60473 (please include a self-addressed stamped envelope for a reply) or at LovinasAmishKitchen@MennoMedia.org.